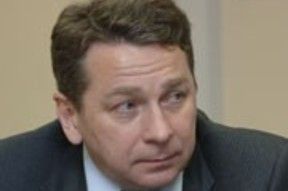 Andrey DiakovThe head and deputy-head of Vnukovo Airport have resigned, the airport's press service announced amid the ongoing investigation into the plane crash that killed Total CEO Christophe de Margerie and three crewmembers.
"Due to the tragic events on the night of October 20 to 21, the head of the Vnukovo International Airport, Andrey Diakov, and deputy head, Lieutenant-General of Aviation in Reserve Sergey Solntsev, have resigned. The resignations have been accepted," said a statement.
Along with the airport leaderships' resignations, the provisional director of the airport, the head of the operation unit in the airfield and leading airfield maintenance engineer have been suspended, added the press service.
Vnukovo Airport is doing everything possible to ensure the tragedy is quickly and objectively investigated, said the press service, adding that despite the ongoing investigation the airport is still operating.
Earlier four Vnukovo Airport employees, the leading airfield maintenance engineer Vladimir Ledenev, flight operations director Roman Dunayev, trainee air traffic controller Svetlana Krivsun and air traffic controller Aleksandr Kruglov, have been taken for interrogation.
The spokesman from Russia's Investigative Committee Vladimir Markin said the investigators didn't find alcohol in the blood of these four Vnukovo employees.
"All of them are suspected that they didn't provide the security requirements of the flights and for failing to conduct ground checks that led to the tragedy," added Markin.
Snowplow driver proved drunk during accident
Vladimir Martynenko, the snowplow driver whose machine collided with the Falcon plane of Total CEO, was arrested on Thursday after an investigation established he was drunk at the time of the accident.
He will be detained till December 21.
He had a 0.06 percent blood alcohol level (which corresponds to 100 grams of vodka), said Markin.
October 23 2014, 15:36