By Murat Sultangaliyev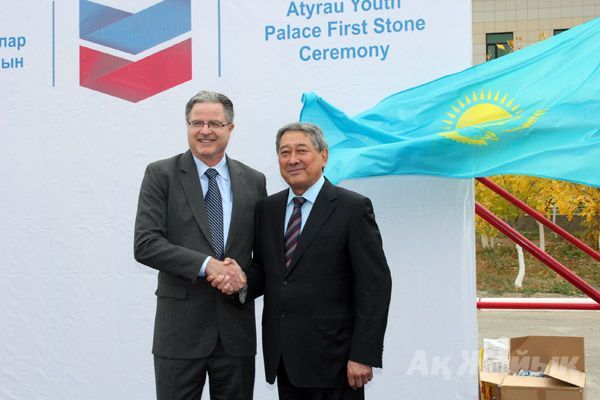 J. Watson, CVX CEO and B. Izmukhambetov, Governor of Atyrau Oblast.On October 7, near Ice Palace the Governor of Atyrau Oblast Baktykozha Izmukhambetov and John S. Watson, CEO of Chevron Corporation laid the symbolic 'corner stone' during the groundbreaking ceremony of the future Youth and Children's Palace in Atyrau.
"During over than 20 years of work in Kazakhstan we always believed that a truly successful cooperation is not limited to exploration and production of oil and gas," – said D. Watson. - We believe that by investing in youth of Atyrau, we will help them to serve the society better".
The Governor congratulated Watson with the RoK state award – "Dostyk" order that was handed to him on October 6 by the president Nursultan Nazarbayev.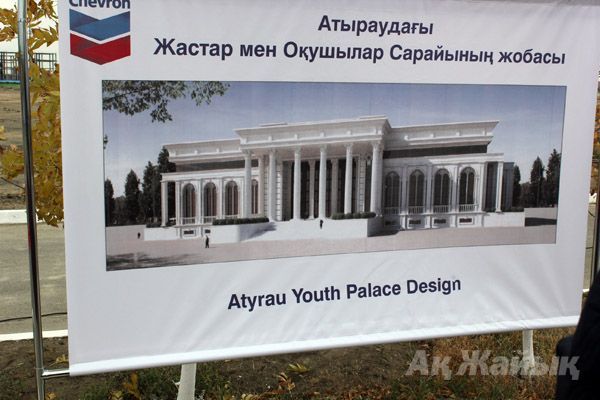 Palace for Youth and Children will be built in AtyrauAfter the ceremony B. Izmukhambetov answered journalists' questions. He said that in the Palace of Youth and Children that is scheduled to be opened by the end of next year, there will be premises and comfortable conditions created for various circles - professional, educational, entertaining, sports, etc.
The Governor also said that by the end of this year the construction of another facility – an indoor court for big and table tennis. The design work is nearly complete and then it will be sent for state examination. "I want Nursaya to be the best residential district in Atyrau", - said the Governor.
Photos by the author
October 8 2014, 11:30