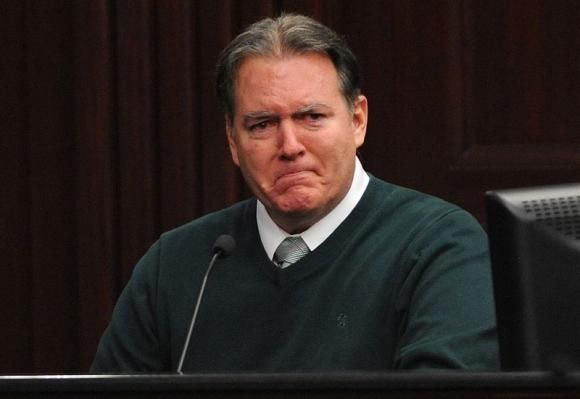 Defendant Michael Dunn reacts on the stand during testimony in his own defense during his murder trial in Duval County Courthouse in Jacksonville, Florida in this photo taken February 11, 2014.A Florida jury found Michael Dunn, a middle-aged white man, guilty of first-degree murder on Wednesday in the shooting death of an unarmed black teenager in an argument over loud rap music.
Dunn, 47, a software engineer, testified he thought he was defending himself from an armed threat when he fired 10 rounds at an SUV carrying four teens at a Jacksonville gas station parking lot, killing Jordan Davis, 17.
Dunn and Davis exchanged words before the shooting about the loud music coming from the SUV.
The jury, composed of 10 whites and two blacks, took less than five hours to reach Wednesday's verdict. In a February trial, a jury deadlocked after deliberating the murder charge in Davis' death for four days, but convicted Dunn on three counts of attempted murder for firing at the other, uninjured teens in the vehicle.
Under Florida law, Dunn will be sentenced to life in prison without parole for the murder of Davis. He faces an additional 60 years in jail for his February convictions.
Davis's parents, Ron Davis and Lucy McBath, welcomed the verdict. "There are not words to express our joy and our great sorrow," said McBath. "We know that Jordan has received his justice."
Outside the courthouse the verdict was met with a crowd of people hugging each other as cars drove by hooting horns in celebration.
State Attorney Angela Corey said Dunn's actions after the shooting, including leaving the scene without calling 911, were clear evidence of guilt.
"We believed the flight from prosecution to be the most striking thing about the case," Corey said.
Dunn testified he was sure he saw a gun as a teenager appeared to emerge from the SUV making verbal threats against his life. Davis was unarmed, prosecutors said, and no weapon was found in the youths' vehicle.
During the weeklong retrial, prosecutors argued that Dunn's actions went far beyond self-defense.
Davis was struck by three bullets while leaning away from the gunfire, an expert testified. Dunn faced intense questioning as to why he did not call 911, which he blamed on fear and shock.
The trial drew comparisons to the case of George Zimmerman, who was acquitted of murder in Florida last year in the shooting of Trayvon Martin, another unarmed black 17-year-old. Zimmerman, a neighborhood watch volunteer, said he fired in self-defense.
October 2 2014, 15:18