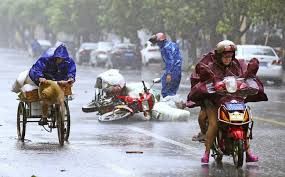 Some 5.97 million people in southern China's provinces of Hainan, Guangdong and Guangxi have been affected by typhoon Kalmaegi, local authorities said Thursday.
At least seven people have been killed and another person has gone missing. Around 668,000 hectares of crops have been hit and 1,600 houses have been destroyed, the Office of State Flood Control and Drought Relief Headquarters has said.

The tropical storm, which slammed into China's Hainan island on Tuesday morning, has affected 548 highways, 12 railways and led to the closure of 28 airports and ports, as well as power failures, according to the headquarters.

Kalmaegi (which means 'seagull' in Korean) is the 15th typhoon to hit China this year. The storm blew in from the Philippines, where at least five people have been killed. The damages have topped nearly $14 million.
September 18 2014, 14:59