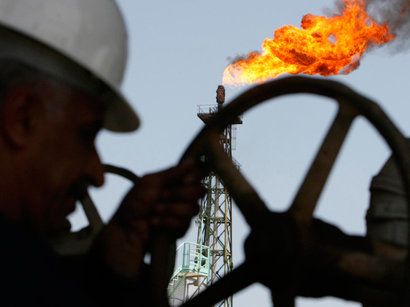 Kazakhstan's KazMunaiGas National Oil and Gas Company is holding negotiations with the State Oil Company of Azerbaijan (SOCAR) to purchase fuels and lubricants, Kazakhstan's First Deputy Energy Minister Uzakbai Karabalin said at a press conference in Astana on Sept.16, trend.az reported.
"Thereby, Kazakhstan intends to cover the shortage of petroleum products in its domestic market," Karabalin said, adding that the country also holds talks with Russia and Turkmenistan to purchase fuels and lubricants.

The deputy minister went on to add that it has been agreed to import around 690,000 metric tons of gasoline to Kazakhstan, stressing that to date, only 9,600 metric tons of gasoline has been imported to the country, 9,700 metric tons of gasoline was shipped from the country and 200 metric tons of gasoline is yet to be delivered.

Karabalin underscored that one third of the fuels and lubricants consumed in Kazakhstan is imported from Russia.

"However, currently, there is a difficult situation in Russia, as its Achinsk refinery has just now started full production after the accident. Additionally, scheduled repair work started in several Russian refineries in autumn."

He stressed Russia started to deliver a part of its petroleum products to Crimea from 2014.

"Thus, the Russian market faces a tense situation with fuels and lubricants and therefore, they will not be able to supply fuels and lubricants to other countries as it was before," Karabalin added.

The first deputy minister underscored that the significant difference in prices for fuels and lubricants in Kazakhstan and Russia also prompted Kazakhstan to turn to its neighbors (Azerbaijan and Turkmenistan), trend.az reported.

"The price for one liter of AI-92 gasoline is 128 tenge in Kazakhstan, while it is equal to 160 tenge ($1=182 tenge) in Russia. The price for one liter of diesel fuel is 115 tenge in Kazakhstan, versus 170 tenge in Russia," Karabalin said, adding that so, few companies and individuals will be able to purchase Russian oil products at such high prices.

The deputy minister stressed that it has been decided to postpone the scheduled repair at the Shymkent refinery (south Kazakhstan) to February or March or April of 2015, in order to provide the domestic market with fuels and lubricants.

Karabalin said it is planned to produce around 250,000 metric tons of gasoline of all brands, including, AI-92 gasoline (186,000 metric tons) in September 2014, adding that the market demand for this gasoline brand is 280,000 metric tons.

"September has always been a tense month, but the harvesting campaign is coming to an end and the volume of diesel fuel used during the harvesting campaign will soon be delivered to the market again," the deputy minister said and expressed hope that the country will manage to eliminate the shortage of oil products.

Three large refineries – Pavlodar refinery, Atyrau refinery and Shymkent refinery – operate in Kazakhstan and their total processing volume nears 13 million metric tons.
September 17 2014, 16:26