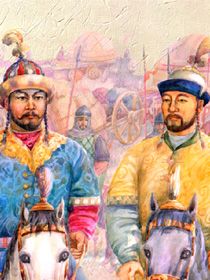 Zhanibek Khan and Kerei Khan.Kazakhstan is set to develop historical television series, according to Almaty city mayor Akhmetzhan Yessimov.
"President Nursultan Nazarbayev said that Kazakhfilm Company should develop a period drama series chronicling the history of Kazakh people since the times of Zhanibek Khan and Kerei Khan. Nursultan Abishevich cited the example of Turkish TV drama Suleiman the Magnificent that is über popular in Kazakhstan," Mr. Yessimov said at the opening ceremony of the 10th International Eurasian Film Festival.

Yessimov believes there are many talented directors, screenwriters and actors in Kazakhstan and that Kazakhfilm studio has everything in place to develop such film or serialized drama.
September 16 2014, 16:37