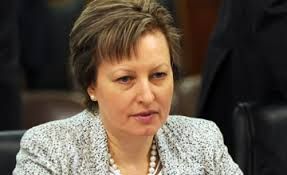 Elena Bakhmutova Assets of more than 60 public facilities in Kazakhstan are scheduled to be put up in the private sector, trend.az reports.
Deputy Chairman of the Board of Kazakh National Welfare Fund "Samruk-Kazyna" JSC Elena Bakhmutova made the remarks after the meeting of the fund`s commission on the sale of assets and facilities within complex plan of privatization for 2014-2016.
"We had 64 scheduled facilities by the end of the year. We still do not deviate from the schedule. It is needed to implement work with maximum coverage of potential participants in order to find buyers. We hope that we will fulfill the plan for 2014," she said.
"Samruk-Kazyna " wants not only to just sell the assets and to get the maximum amount of money, but also to keep them operating, according to Bakhmutova.
"Thus our goals are two-fold.dual. We are ready to sell them at fair value, which the owner and the buyer accept," the deputy chairman said.
Bakhmutova also noted that if the facility will be sold at auction, then anyone can register on the website of the Kazakh State Property Committee. "If there will be an electronic tender, then in accordance with the contest, additional requirements can be set, such as the preservation of the facility, the preservation of jobs."
"All requirements will also be posted on the website of state property committee so that potential buyers could see them. If the facility has strategic importance, then additional restrictions will be put on purchasers. No restrictions were made on the first 15 objects for August by the residency, but there are some limitations on additional requirements, as preservation of jobs," Bakhmutova said.
The appraiser of the facilities must participate at the sale process, according to the deputy chairman.
"As regard to price, it will be based on an independent assessment, then the auction will be appointed by the English or Dutch method. If the object will not be sold, then it will be submitted to the relevant committee to determine further actions," Bakhmutova said.
July 28 2014, 16:58