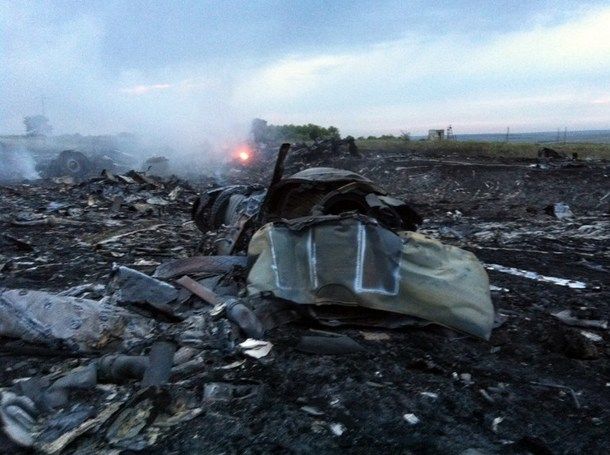 A picture taken on July 17, 2014 shows wreckages of the malaysian airliner carrying 295 people from Amsterdam to Kuala Lumpur after it crashed, near the town of Shaktarsk, in rebel-held east Ukraine. Pro-Russian rebels fighting central Kiev authorities claimed on Thursday that the Malaysian airline that crashed in Ukraine had been shot down by a Ukrainian jet. AFP photo.Ukraine's government confirmed that a Malaysia Airlines passenger airline crashed in eastern Ukraine late this afternoon, close to the Russian border, kiyvpost.com reports.
The plane was carrying 295 people on board, according to Interfax news agency, including 280 passengers and 15 crew members. The flight departed at 12:14 p.m. from Amsterdam en route to Kuala Lumpur, and was reportedly shot down around 4:20 p.m. It is presumed that all 295 people are dead, according to Ukrainian Interior Ministry spokesman Anton Gerashchenko.
Ukrainian President Petro Poroshenko has announced that the government is launching an investigation into the incident, but called the event "a terrorist act." He said Ukrainian forces had nothing to do with the plane crash. Ukraine's Interior Ministry said the plane was brought down by a missile. Government emergency officials were holding a news conference at 8:30 p.m. on July 17.
Malaysian President Mohd Najib Tun Razak tweeted: "I am shocked by reports that an MH plane crashed. We are launching an immediate investigation."
According to the anti-terrorist operation's information center, Ukraine's aviation did not fly today. The area where the plane crashed was in an area controlled by Kremlin-backed separatists.
Russian-backed separatist leader Igor Girkin (who also goes by the name of Strelkov) claimed credit. "The plane has just been taken down somewhere around Torez (Donetsk Oblast). It lays there behind the Progress mine. We did warn you – do not fly in 'our sky.' And here is the video proving another 'bird' falling down. The bird went down behind the slagheap, not in the residential district. So no peaceful people were injured." There is also information about another plane shot.
July 17 2014, 22:59