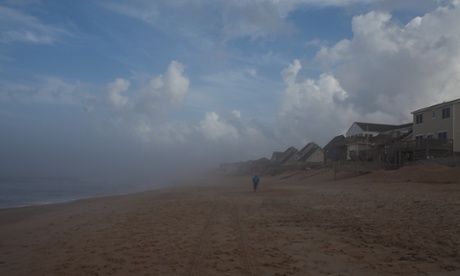 Cape Hatteras awaits hurricane Arthur on ThursdayThe first hurricane of the Atlantic season made landfall on the North Carolina coast late on Thursday night, forcing thousands of holiday-makers to scrap their 4 July holiday plans amid evacuation orders, theguardian.com reports.
Hurricane Arthur arrived near Cape Lookout at the southern end of North Carolina's Outer Banks just before midnight, with maximum sustained winds of 100mph (160kmh), earning it category two status on the five-step scale of hurricane intensity, according to the US National Hurricane Centre.
Arthur is the first hurricane to hit the US since superstorm Sandy devastated New York and New Jersey in October 2012 and caused $70bn estimated damage.
Despite growing in intensity, Arthur remained a medium-sized storm, with hurricane force winds extending outwards up to 35 miles from the centre, though lesser tropical storm-force winds extended 150 miles.
After scything through the Outer Banks, Arthur was expected to accelerate towards the north-east over cooler water on Friday, diminishing in strength and posing little risk to the north-eastern United States, forecasters said.
The storm disrupted plans for holiday beachgoers and others ordered off low-lying barrier islands in its path. Tourists and some residents packed ferries and crowded the only highway off Ocracoke and Hatteras islands, where voluntary and mandatory evacuations were in effect.
Ferry services between some islands were suspended on Thursday afternoon as conditions began to deteriorate, with 22ft waves reported offshore and heavy rain and wind gusts reported along the coast.
Some people on Hatteras Island planned to ride out the storm. Retiree Gerry Lebing said he was tying things down at his house and moving cars to higher ground.
Troy Scroggin drove from Virginia to check on his holiday home on Hatteras Island. "We had to batten down the hatches and we're going to stay and see what it's like," he said.
The storm could bring life-threatening rip currents and a storm surge of up to 5ft to North Carolina's barrier islands, forecasters said.
North Carolina officials warned the storm surge could make the narrow 50-mile Highway 12 connecting Hatteras Island to the mainland impassable. The state was putting extra heavy equipment in place to remove sand and the overwash as soon as possible after the storm passed.
July 4 2014, 09:51