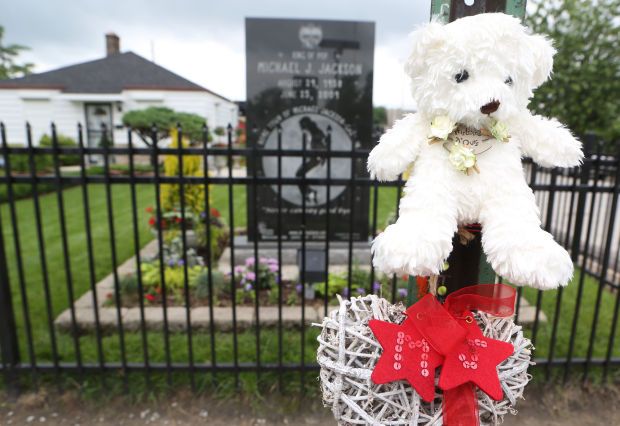 A stuffed bear and a heart decoration adorn a sign posted outside Michael Jackson's childhood home at 2300 Jackson St. in Gary on Tuesday, the day before the fifth anniversary of his death.It's been five years since Michael Jackson died, yet his career is more alive than it has been in decades.
Just last month, the singer moonwalked across a Las Vegas stage in a nationally televised hologram performance. A new album recently debuted at No. 2 on music charts. And a traveling Cirque du Soleil show based on Jackson's songs has logged nearly 500 performances worldwide.
The result has been an estate that has earned more than $600 million since the King of Pop's untimely death at age 50.
While the city of Gary has no official plans Wednesday to observe the anniversary, fans have traditionally paid tribute to the singer at the family's house at 2300 Jackson St.
Meanwhile, Jackson's fans — still as loyal and fervent as ever — will participate in tributes worldwide to commemorate the anniversary. A sampling:
— Los Angeles fans will gather at Jackson's star on Hollywood's Walk of Fame at 10 p.m. to sing, light candles and display flags from around the world.
— Jackson fans in the Netherlands will gather at Scheveningen Beach to commemorate his death by lighting lanterns.
— Spanish fans will hold vigils at Playa Catalunya in Barcelona and Playa de la Victoria in Cadiz.
June 25 2014, 10:48