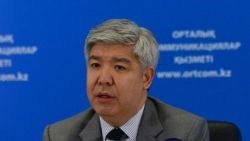 Nurlan KapparovTwenty-nine new water reservoirs will be built in Kazakhstan, Minister of Environment and Water Resources Nurlan Kapparov said at the media briefing, azh.kz reports.
"The plan on reconstruction and capital repair of hydraulic complexes of water reservoirs for 2014-2016 for every region was developed taking into consideration the forecasts of experts. Besides, the plan regulates development of design specifications and estimates of construction of new water facilities. In accordance with the plan, 29 new water reservoirs will be built," the minister said.
Besides, reconstruction works, capital and minor repairs are planned to be conducted at 2700 kilometers of main and distribution channels. "The second stage of the project on Syrdarya River training and preservation of the northern part of the Aral Sea is to be launched as well," the minister added.
Besides, the works on clearing and sanitization of 20 lakes in specially protected natural reservations will be conducted for the first time in the country. The construction of 25 new gauging stations on cross-border rivers is planned to be started this year. Totally, 195 gauging stations will be built by 2020.
The minister predicts degradation of lands and deficiency of water. According to him, climate change directly affects Kazakhstan. So, the average temperature in the country increased by 0,85 degrees Celsius, that is above an average world value.
"We are subjected to a climate change problem more than other regions because we, after all, are located far from the seas. Desertification process will increase. Degradation of lands, shortage of water resources are the problems that we will be facing in the future, - the minister said.
He emphasized that, practically, all the regions will be subjected to further deficiency of water.
"The East will be more or less provided with water, but all other regions of Kazakhstan, especially, the South, will have water deficiency problem", - he noted.
According to him, measures for fight against deterioration of the situation are specified in the State program on water resources management.
June 5 2014, 18:45