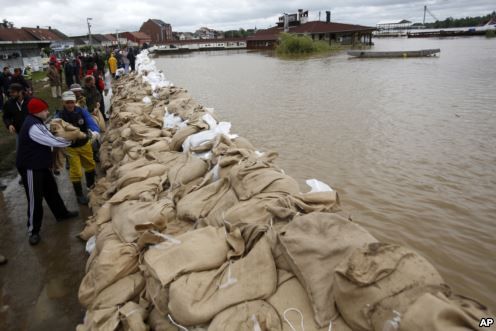 People build a dam made up of sandbags by the bank of the Sava river in Sremska Mitrovica, Serbia.Soldiers, police and villagers battled to protect power plants in Serbia from rising flood waters on Sunday as the death toll from the Balkan region's worst rainfall in more than a century reached 37, reuters reports.
Twelve bodies were recovered from the worst-hit Serbian town of Obrenovac, 30 km (18 miles) southwest of the capital, Belgrade, but the number was likely to rise as waters receded.
"The situation is catastrophic," Prime Minister Aleksandar Vucic told reporters.
Hundreds of soldiers and residents scrambled to raise sandbag barriers around the perimeter of the Kostolac power plant east of Belgrade, where a Reuters cameraman said waters from the swollen River Mlava, a tributary to the much larger River Danube, had come to within a kilometer.
Workers at the plant joined the effort, digging up a road in a bid to divert waters that threatened to flood nearby coal mines. The Kostolac plant supplies 20 percent of Serbia's electricity needs.
Russian cargo planes carrying boats, generators and food joined rescue teams from around Europe and thousands of local volunteers in evacuating people and building flood defenses after the River Sava, swollen by days of torrential rain, burst its banks.
Rains eased and flood waters receded on Sunday in some of the worst-hit areas of Serbia and Bosnia, but the Sava was forecast to rise further. Thousands of people have been displaced.
Serbia's EPS power utility said a fresh flood wave also threatened Serbia's largest power plant, the Nikola Tesla in Obrenovac.
Flooding had already cut Serbian power generation by 40 percent, forcing the cash-strapped country to boost imports.
"More and more water is getting closer but for the time being the sandbag defense barriers are holding," Tanjug news agency quoted Kostolac general manager Dragan Jovanovic as saying.
"TSUNAMI"
The economic impact of the floods is likely to be huge, devastating the agricultural sector vital to both the Serbian and Bosnian economies.
Vucic said a fire and flooding of surface mines on Friday at the Kolubara coal-fired power plant southwest of Belgrade had caused damage of at least 100 million euros ($137 million).
"These are the kind of waters not seen in 1,000 years, let alone 100," Vucic told a televised cabinet session.
He said 12 bodies had been recovered from Obrenovac after waters dropped from a peak of some three meters (10 feet). At least five more were reported dead elsewhere in Serbia.
In Bosnia, 19 people were confirmed dead, with nine bodies recovered from the northeastern town of Doboj after what the regional police chief described as a "tsunami" of water.
A Reuters cameraman at the scene said half the town was still submerged. Soldiers delivered food and medical supplies by truck, boat and bulldozer. Cranes lifted medical workers into some homes and removed stranded residents from others.
Zeljka Cvijanovic, prime minister of Bosnia's autonomous Serb Republic, compared the devastation to Bosnia's 1992-95 war, in which 100,000 people died. "The damage is such that we cannot recall even after the war," she told reporters.
In Croatia, the government said one person had died and two were missing in flooded villages in an eastern corner of the country near Bosnia and Serbia. The army used amphibious vehicles to help evacuate some 3,000 people.
"I carried my kids out on my back, then waited 12 hours to be rescued myself," said 40-year-old Obrenovac resident Dragan Todorovic, who spent the night in a Belgrade sports hall with dozens of other families. "The house was new, built two years ago for 100,000 euros. What now?"
May 19 2014, 11:39