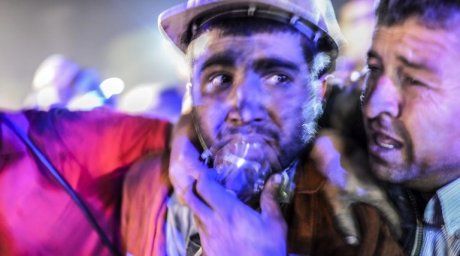 AFPAt least 201 people were killed and hundreds more remained trapped underground after an explosion at a coal mine in western Turkey, the government said Wednesday, warning that rescue efforts faced a race against time, AFP reports.

The toll has risen rapidly since Tuesday's disaster in the province of Manisa, when a total of 787 mineworkers became trapped inside the mine.

Rescue operations continued overnight for the hundreds of people still underground. Of those rescued alive, 80 were injured, four of them seriously, said Energy Minister Taner Yildiz.

"We fear the number could rise even further because those who came to help out may be among the injured and affected by the smoke," he told reporters.

"As the time passes, we are very quickly heading to an unfavourable outcome," he added.

Earlier a security source told AFP that there were pockets in the mine, one of which was open so rescuers were able to reach the workers, but the second was blocked with workers trapped inside.

The explosion was believed to have been triggered by a faulty electrical transformer at around 1230 GMT Tuesday.

Hundreds of people gathered around the explosion site as rescuers brought out injured workers, who were coughing and struggling to breathe due to the dust.

Sena Isbiler, a mother of one of the miners, stood on top of piles of wood, craning her neck to see who was being led out of the mine.

"I have been waiting for my son since early afternoon," she told AFP.

"I haven't heard anything about him yet."

Arum Unzar, a colleague of the missing miners said he had lost a friend previously "but this is enormous."

"All the victims are our friends," he said as he wept.

"We are a family and today that family is devastated. We have had very little news and when it does come it's very bad," he added.

'Tragic accident'

Fire officials were trying to pump clean air into the mine shaft for those who remained trapped some two kilometres (one mile) below the surface and four kilometres from the entrance.

Late Tuesday evening injured people were still emerging from the collapsed mine -- some walking, others being carried by rescue workers while being given oxygen.

Nearby, security officers tried to keep ambulance routes clear to ensure help could reach the victims.

The mining company Soma Komur issued a statement saying the mine had maximum safety measures.

"Unfortunately, some of our workers have lost their lives in this tragic accident," the statement said.

"The accident happened despite maximum safety measures and inspections, but we have been able to take prompt action," it added.

Energy Minister Yildiz promised that if it was discovered that any negligence was to blame for the disaster "we will not turn a blind eye to it. We will do whatever necessary including all administrative and legal steps."
'Time isn't in our favour'

Turkey's ministry of labour and social security said the mine was last inspected on March 17 and was found to be compliant with safety regulations.

But Oktay Berrin, a miner, said workers were not protected underground.

"There is no security in this mine," he told AFP.

"The unions are just puppets and our management only cares about money."

Turkish Prime Minister Recep Tayyip Erdogan's office said he would arrive in Soma on Wednesday after cancelling a trip to Albania.

Speaking in Ankara, the leader expressed his "heartfelt condolences" to the families of those who died.

"Some of the workers have been rescued and I hope we will be able to rescue the others," Erdogan said.

Energy Minister Yildiz told journalists in Soma that a team of 400 people were involved in the rescue effort and that the main cause of the deaths was carbon monoxide and dioxide poisoning.

"Time isn't working in our favour. We need to get them out. We could be in a troubled situation," he said.

The miners are all thought to have gas masks, but it was not clear how long they would last.

Vedat Didari, a professor of mining, told AFP that the biggest risk was the lack of oxygen.

"If the ceiling fans are not working, the workers could die within an hour," said Didari, from the Bulent Ecevit University in the city of Zonguldak.

Explosions and cave-ins are common in Turkey, particularly in private mines where safety regulations are often flouted.

Turkey's worst mining accident happened in 1992 when 263 workers were killed in a gas explosion in a mine in Zonguldak.

Soma is one of the key centres for lignite coal mining in Turkey, a district with a population of around 100,000 where the mines and a lignite-fired thermal power plant are the main economic activity.
Source: Tengrinews
May 14 2014, 11:26