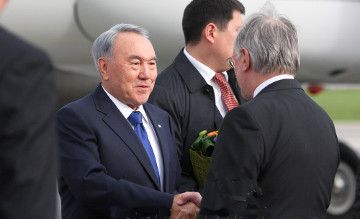 President of Kazakhstan Nursultan Nazarbayev has arrived in Minsk to participate in the session of the Supreme Eurasian Economic Council, the Akorda press service reports.
President of Belarus Alexander Lukashenko and Kazakh President Nursultan Nazarbayev have exchanged views on the prospects for the creation of the Eurasian Economic Union.
The meeting of the two leaders comes before the round table of the Supreme Eurasian Economic Council at the level of heads of states, Kazinform has learnt from BelTA.
"It makes sense to exchange views on the prospects of the union and the problems that will arise in some or other way", said Belarusian President.
Alexander Lukashenko believes that there are no special problems in Belarusian-Kazakh relations.

In his turn, Nursultan Nazarbayev stressed that today Minsk will held a very important meeting on the Eurasian Economic Union. "Our experts worked on the treaty but there are still issues that need to be discussed and clarified", said Nursultan Nazarbayev. According to the President of Kazakhstan, after Lukashenko's visit to Kazakhstan 14 joint ventures were established in the country.

Kazakh President noted with satisfaction the positive development of bilateral cooperation. He also highlighted the fact that Minsk in the near future will host the world hockey championship, as well as the celebration of the 70th anniversary of the liberation of Belarus from Nazi invaders.
April 29 2014, 18:02