By Saule Tasboulatova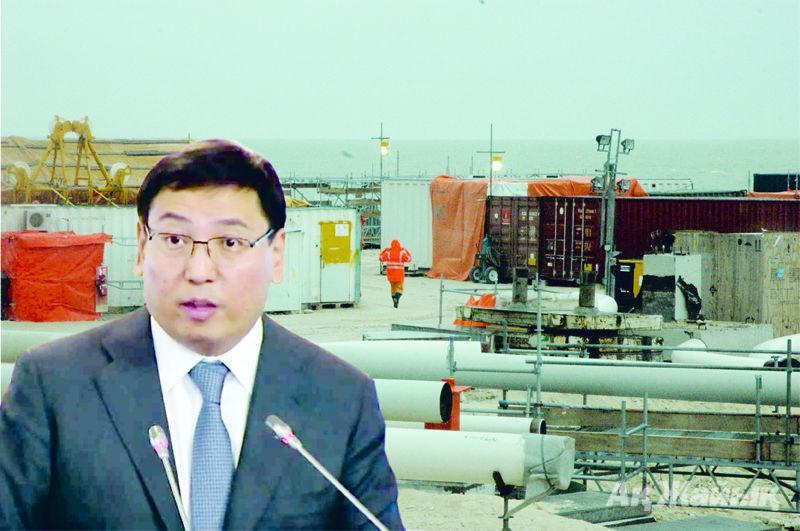 Collage by Ak ZhaikOn Thursday, April 17, members of the government and main investors of the North Caspian project will have a meeting where the investors are going to propose a detailed plan of activities till the end of 2014. This was voiced by Erbolat Dosaev, the RoK Minister of Economy and Budget Planning at the briefing in Astana on Monday. It is interesting to know whether he will also be taken to task for his contractor company at Kashagan?
The Consortium was supposed to submit a detailed report to the government in March, but the former prime minister Serik Akhmetov wasn't fated to see it. Probably, the emergency situation at Kashagan also played a certain role in his resignation, although the project has been launched long before he was appointed to his former position.
It is unlikely that on Thursday the investors will bring to the new prime minister Karim Masimov a detailed plan of actions. But our party (let's say it directly – and the whole ), at least, hopes to receive from expats the answer to the main question: till what date the production is postponed?
The answer will be disappointing. As we already published, referring to an informal source, Bolashak plant at Karabatan designed for processing Kashagan crude, will be mothballed for two years as of June. And this is an obvious proof of the fact that the total 95 km length of gas and oil pipelines, running from the artificial sea islands to the plant, will be replaced.
Even prior to start-up there were discussions about inevitable problems at Kashagan. And there were serious reasons for that: construction activities were badly delayed, the start date of production was postponed four times since 2005, the final construction and commissioning activities were performed in an emergency mode. However, nobody (leave alone our government that always makes glowing plans) didn't expect that problems will happen so soon.
The break was in the area that everybody thought would be a strong point - pipes from heavy-duty steel produced by Japanese company Sumitomo couldn't withstand the impact of high concentration of hydrogen sulfide (up to 15%). Laboratory analyses showed that pipeline cracking and leaks were the direct result of sulphidic compounds (SSC).
Thus, Agip KCO- the project operator (main shareholder is Italian company Eni)l that is responsible for implementation of Phase 1 (experimental programme, including drilling), as well as on-shore facilities construction, has to answer for its mistake. But it is not only Italians who should be blamed for faulty pipes. The general contractor, reposnsible for welding and laying of pipeline is Saipem - the joint venture between Italian Eni and Kazakhstan ERSAI Caspian Contractor – a subsidiary of Lancaster Group, where considerable shares are owned by the Minister of Environmental Protection and Water Resources Nurlan Kapparov and the above-mentioned Minister E. Dosayev.
As our colleagues from KazTAG reported, now the businessman Minister and business partner of the Italians Dosayev deny the participation of ERSAI Caspian Contractor in supply of pipes and welding activities at Kashagan. Probably, unfortunate partners hope that Masimov who returned back to his former position in the government (in Astana the rumors are that they enjoy his support for a long time) will help them to come out dry from the sea water?
April 16 2014, 11:08