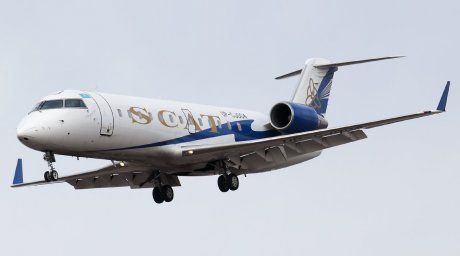 Transport Ministry's Civil Aviation Committee has launched a comprehensive inspection of the Kazakhstan-based SCAT airline to ensure the airline is in line with flight safety standards, tengrinews.kz reports, citing the Ministry's Press Service.
"In the wake of a recent incident involving a SCAT aircraft, the Civil Aviation Committee is carrying out an investigation; the Committee has also launched a comprehensive inspection of the company's operations to make sure it meets the flight safety norms", the statement reads.
April 7, 2014 a Boeing 737 operated by SCAT airline on its route from Shymkent in the South of Kazakhstan to Astana, the country's capital city, made an emergency landing at the airport of Astana due to the malfunctioned front landing gear. The aircraft landed successfully, with no injuries reported.
January 29, 2013, a CRJ 200 operated by SCAT, crashed 5 kilometers away from Almaty, the country's biggest city, with all the crew members and 16 passengers killed.

For more information see:http://en.tengrinews.kz/companies/Civil-Aviation-Committee-launches-a-comprehensive-inspection-of-SCAT-airline-252770/
Use of the Tengrinews English materials must be accompanied by a hyperlink to en.Tengrinews.kz

For more information see:http://en.tengrinews.kz/finance/Kazakhstans-international-reserves-figure-announced-252768/
Use of the Tengrinews English materials must be accompanied by a hyperlink to en.Tengrinews.kz
April 8 2014, 10:42