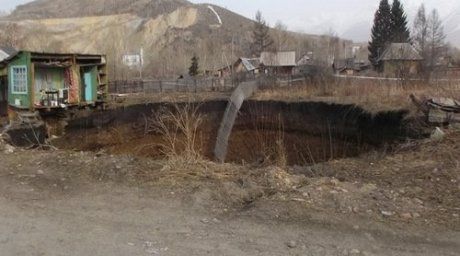 © Emergency Services of East Kazakhstan Oblast Press ServiceA house has collapsed into a newly formed crater in the city of Ridder, tengrinews reports citing the press service of the Emergency Situations Department of East Kazakhstan Oblast.

The incident occurred on April 3 at 2:30 p.m. in the area of the Ridder-Sokolsky mine on Borovaja street when a 110-meter deep 50mX50m (164ftX164ft) funnel formed in place of a house. Three people managed to escape the collapsing building.

All the necessary security measures were set up around the place where the house used to be. There are about 120 other private houses near the gaping crater. All the residents of the neighboring houses within 500 meters from the accident site were evacuated.
All the works in the Ridder-Sokolsky mine were suspended and about 500 miners were evacuated.

"There were no reports of dead or injured. The Paramilitary Mine Rescue Squad of the Emergency Department is now working at the site. The headquarters for dealing with the emergency were set nearby and staffed by the Department of Internal Affairs and specialized forces of the Fire Department," the press officer of the Department of Emergency Situations of East Kazakhstan Oblast Zhanat Sagdollina said.

According to the press service of the Prosecutor of East Kazakhstan Oblast, it is being investigated if the collapse of the building is linked to operations of the Ridder-Sokolsky mine.
However, the fact that the mine passes precisely under the place where the crater appeared and that representatives of the company that owns the mine were the first ones to arrive to the accident site after the house literally fell into hole in one piece, and that the company took responsibility for the accident speak in favor of the of the version that the cave-in is a result of mining operations.

According to preliminary conclusions of the Emergency Heaquarters, the incident was caused by roof caving in one of the chambers of the Bystrushinskaya deposit at the 11th working floor of the Ridder-Sokolsky mine.
Ridder-Sokolsky mine is owned by Altyn Tau-Vostok JSC, a susidiary of Kazzink LLP, a large Kazakhstani mining company that has 6 mines and several smelters, and produces zinc, lead and copper, and has interests in gold and silver mining.
The parent company, Kazzink, is now spearheading all the works to cure the aftermath of the accident. It is currently sealing the crater with concrete and reinforcing the caving. To prevent any further sloughing of the earth and stop the caving rock mass from getting into the underground workings of the mine, special concrete bulkheads are being installed in the dangerous area.
It was decided to assemble a 300m-long (984ft) concrete-conveying pipe from the mine's concrete-backfill complex and pump in concrete to seal the crater and prevent its walls from collapsing. The grouting of the crater began in the morning on April 5.

Besides, Kazzink declared its readiness to assume all the social obligations in the aftermath of the incident, including the compensation of material damage to the citizens whose property was damaged. The company will pay 200,000 Tenge per house ($1,000) as a compensation for the temporary forced relocation. If any of the houses will be declared unsafe after the reconstruction works, the company will acquire new housing for the residents.

For more information see:http://en.tengrinews.kz/emergencies/House-collapses-into-crater-in-Kazakh-mining-town-252746/
Use of the Tengrinews English materials must be accompanied by a hyperlink to en.Tengrinews.kz
April 8 2014, 09:19