By Zulfiya Bainekeeva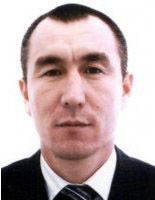 Zhanbolat Dyusenbayev On March 28, one more person, Zhanbolat Dyusenbayev, involved in 'Bergey Ryskaliyev's organized criminal group' has been detained in Aktobe Oblast.
His arrest has been sanctioned in September, 2012. Zhanbolat Dyusenbayev, the director of ATG Kurylys LLP was then put on an international wanted list together with Bertgey Ryskaliyev, Amanzhan Ryskali, Aibat Souleymenov, Rustem Albakasov and others. All together there were 13 suspects, accused of embezzlement of budgetary funds and other serious crimes. Zhanbolat Dyusenbayev is charged with the Article 176, part 3, item "b" of RoK Criminal Code ("Misappropriation and embezzlement of entrusted alien property in large quantities"). ATG Kurylys LLP participated in tenders for gasification of Atyrau Oblast. The company was "affiliated with Ryskaliyev's organized criminal group", says the report of the RoK General Prosecutor Askhat Daulbayev immediately the resignation of the regional governor.
In one and a half years of search, Dyusenbayev is the second detainee out of thirteen. The first person, Oleg Pavlichenko, was detained in Moscow this year in February. But the extradition procedure from the neighboring state still hasn't been completed. Dyusenbayev was detained by the officers of the Department for fight against economic and corruption crimes of Atyrau Oblast.
- Soon he will be convoyed to Atyrau for further investigations in relation to his case, - said Kakharman Zhardemov, the head of organizational and control management inspection under the Department for Economic and Corruption-Related Crime Control of Atyrau Oblast.
March 31 2014, 18:42