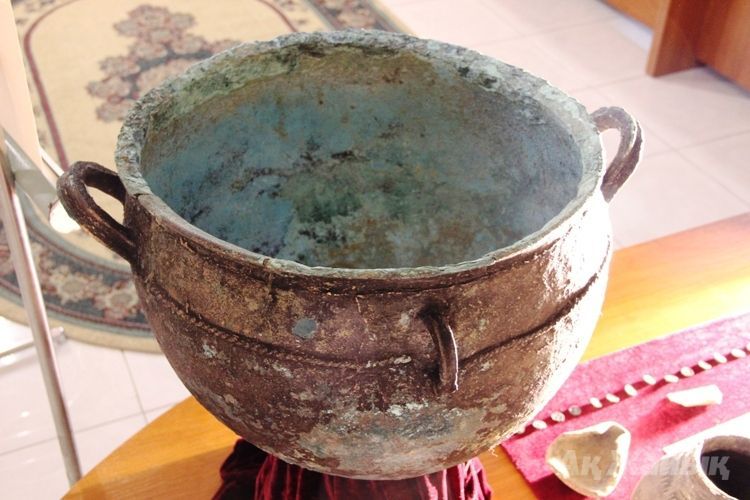 The ancient cauldron found in the mound is a rare archaeological fortune. Atyrau Oblast.In the course of archeological diggings at the Kylysh burial mound near Zharsuat village (Inder District), the archeologists discovered ancient items belonging to Sarmatian tribes and also well preserved remains of the Sarmatian woman. On this occasion the press conference was held at the oblast museum of history and local lore.
The Kylysh burial mound was constructed by the Sarmatian tribes who lived in our area in the 3d century B.C. It was discovered by the archeologists of the Atyrau oblast center of history and archeology. The total area of the burial mound is 145 m2, the height is about 3 meters. Within 100 meters from this historical monument there were found 3 more mounds. The scientists allocate all these mounds to the Kylysh group.
Marat KASENOV, the research officer of the archeological scientific department of the museum, described the finds discovered in the burial ground: 2 gilded belts, sarcophagus, a few metal belts and buttons, the remains of the ancient people and a bronze cauldron. Inside the sarcophagus there were the remains of a woman; a silver ring with cornelian stone and black pearls, and a pocket mirror in a bronze frame. On the back side of the mirror there is a clearly visible image of a dragon.
According to Kasenov, the Sarmatian tribes are our distant ancestors. The Russian scientists studying the history of Sarmatians, very often visit Kazakhstan. It is surprising that throughout the centuries the burial mound stayed intact and hasn't been plundered.
– The decorative ornaments and a cauldron found in the mound is a rare archaeological fortune! – the happy scientist didn't conceal his feeling.
- The Sarmatian woman in the sarcophagus was about 25 years old. Quite probably, she is from the noble, or even an imperial family. It is known that there was the matriarchy in the Sarmatian tribes and the predominating role in a family was assigned to a woman. We discovered one more burial ground there, but we need additional resources for its digging.
Serik MUKHAMBETOV, the Director of the oblast museum of history and local lore:
– This is the first mound that was dug by the employees of our museum. The results are impressive! We've already allocated funds in the 2013 budget for the continuation of the diggings.
Zhenisbek MUSTAFIN, the assistant professor of Atyrau state university said that he is proposing to open the department of archeology within the historical faculty of the university.
Aitolkyn KULSHAROVA
October 29 2012, 16:03