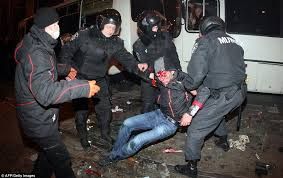 Policemen grab a man during clashes between pro-Russian and pro-Ukrainian activists during a rally in the eastern Ukrainian city of DonetskAt least one person has been killed and more than a dozen injured in clashes between hundreds of pro- and anti-government protesters in Donetsk, euronews reports.
The violence erupted as participants in two rival rallies broke through a police barrier in the centre of the city.
Hospital sources say the victim was fatally stabbed, making it the first death reported outside the capital during the recent violence.
It was unclear how the dead person was killed. Protesters broke through a police cordon keeping the two sides apart. It was the first death reported in recent Ukrainian violence outside of the capital, Kiev.
March 14 2014, 11:39