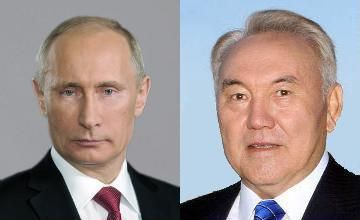 President of Kazakhstan Nursultan Nazarbayev has had a telephone conversation with President of the Russian Federation Vladimir Putin today, inform.kz reports, citing the Akorda's press service.
During the phone call the leaders of Kazakhstan and Russia exchanged views on the relevant issues of the international agenda, paying utmost attention to the complex social and political situation unfolding in Ukraine.

Nursultan Nazarbayev noted that Kazakhstan, as a close strategic partner, understands Russia's stance on protection of the rights of national minorities in Ukraine and its security interests.

The Head of State expressed hope that all parties concerned will show restrain and take whatever measures are necessary to normalize the situation through negotiations.

The President of Kazakhstan also expressed confidence that a peaceful settlement of the crisis in Ukraine through preservation of its sovereignty and in line with the norms of international law will be ensured.
March 10 2014, 21:30