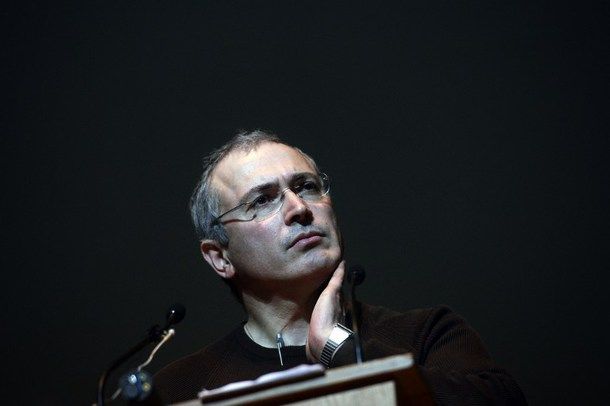 Mikhail KhodorkovskyMikhail Khodorkovsky, the Russian billionaire who spent a decade in prison for opposing Russian President Vladimir Putin, said in Kyiv today that the best path to peace is for Crimea to remain part of Ukraine, kyivpost.com reports.
On Feb. 27, Russian military forces entered Crimea under the phony pretext of needing "to protect ethnic Russians in the region against Ukrainian authorities."
In a speech delivered on March 10 to students of Kyiv Polytechnic University, Khodorkovsky focused mostly on EuroMaidan events and the Crimean crisis, condemning the decision of Russian government to deploy military troops in an "historically friendly neighbored state."
He stressed it was important for him to come to Kyiv not only to express the solidarity with Ukrainian nation, but to show "the attitude of Russian society that doesn't believe propaganda."
Khodorkovsky is certain that Russia is facing the same problems as Ukraine. He said the Russian government needs to be consistent and, first of all focus, on its internal problems rather than expansion in Ukraine.
The Crimean problem is not just the territorial issue for Russian government, Khodorkovsky explained. "For many Russians, Sevastopol is a kind of Holy Land. Merely because it's a part of our general history," Khodorkovsky said, adding that annexation of Crimea is likely to turn out as burden rather than benefit for Russian government.
"I don't support and don't understand the annexation of part of the land of a sovereign state. It looks like a step from the 19th century," he said, adding that "the way out of Crimean could last for decades."
Khodorkovsky said the Ukrainian government should talk to Putin, since a "diplomatic way out from the crisis" is the only option.
Khodorkovsky also stressed Ukrainians shouldn't expect much help from the West.
"You can do it (solve the Crimean crisis) yourself. And who told you that could be an easy way?" Khodorkovsky said, addressing the audience.
"Crimea should have, perhaps the same powers as Scotland has as part of the United Kingdom," Khodorkovsky said, adding that a kind of special economic zone could be formed on the territory of Crimea, which may help Russian government to "protect and support Russian citizens who lived there more effectively than with militants."
Khodorkovsky also stressed he is ready to come to Ukraine as often as possible and become a mediator between Russian and Ukrainian societies "when needed."
Referring to the EuroMaidan Revolution in Ukraine that sent Viktor Yanukovych fleeing the nation as Ukraine's president, Khodorkovsky said Russian authorities describe it as an armed takeover. However, such a "coup" is possible only in a law-governed state and "neither Putin's Russia, nor Yanukovych's Ukraine could be referred to as law-governed states," Khodorkovsky said, adding that Russians are afraid to call Ukrainian events a "revolution."
"All the events that took place in Ukraine during last three months may reformat European policy," Khodorkovsky said. "This makes Russian government nervous, because the same scenario may be played in Russia."
Khodorkovsky also highlighted mistakes of the Ukrainian revolution.
"During the revolution the radical elements were brought into action. It's quite dangerous as it may result in civil standoff inside Ukraine, as we all see now the unrest in eastern Ukraine's oblasts," Khodorkovsky said, adding that people there are afraid of their future also because they "have little confidence in another sensitive question – the status of the Russian language."
The primary task of the Ukrainian government is to unite Russian- and Ukrainian- speaking citizens. Another priority is to work on the image of the new acting government before the upcoming presidential elections, set for May 25.
"You can do as much as possible so that the future elections should be transparent and fair. It also needs a lot of observation from both sides, Western and Russian as well, in order to be recognized in Europe and Russia respectively," according to Khodorkovsky.
Ukraine can be the leader of post-Soviet integration on its way to a democratic Europe.
"Well, and I couldn't also mention that a democratic state never declares war against another democratic state," Khodorkovsky concluded, while the audience burst into applause.
March 10 2014, 20:18