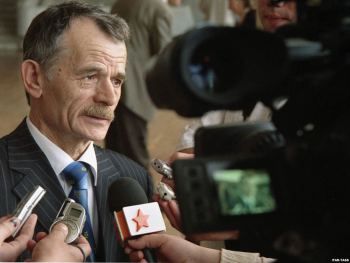 Head of the Mejlis Mustafa Dzhemilev.Crimean Tatars appealed to the presidents of Kazakhstan, Turkey and Azerbaijan to help prevent the secession of Crimea from Ukraine, reports azh.kz, citing Azerbaijani news outlet haqquin.az.
In an interview with haqquin.az on March 6, the leader of the Crimean Tatars and former head of the Mejlis Mustafa Dzhemilev explained:
"Our people were once expelled from their native lands," he said. "We do not want a repetition of this tragedy. Therefore we appeal for help to Ilham Aliyev (president of Azerbaijan), Abdullah Gül (president of Turkey ) and Nursultan Nazarbayev (president of Kazakhstan). Do not abandon your Crimean brothers and sisters at this difficult time. We ask the entire world to help us. Exile and repression await us in Russia once again," he said.
Dzhemilev announced that the Crimean Tatars are preparing for mass protests and beseeched the world to support the views of the indigenous population of Crimea, which wishes to continue living as part of a unified Ukraine.
As reported earlier, the new head leader of the Mejilis of the Crimean Tatars Refat Chubarov called for the deployment of an international UN peacekeeping force in Crimea.
March 7 2014, 12:43