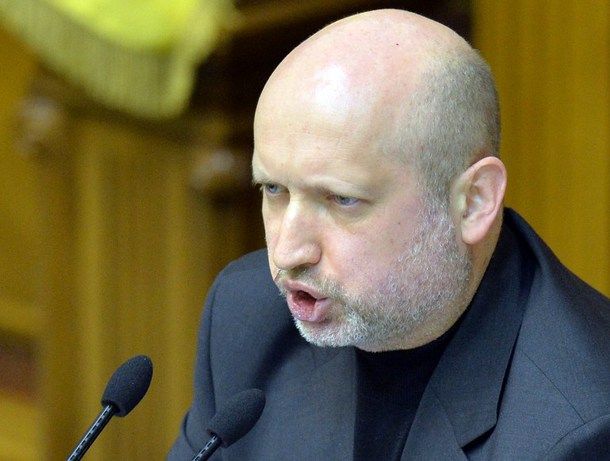 Ukraine's interim president and Verkhovna Rada speaker, Oleksandr Turchynov, is a former deputy prime minister and longtime ally of ex-Prime Minister Yulia Tymoshenko.Parliament did a lot over the weekend: The lawmakers impeached Viktor Yanukovych as president, fired many of his key ministers, freed Yulia Tymoshenko, set presidential elections for May 25, returned to the 2004 constitution and made newly elected speaker Olesandr Turchynov the nation's interim president, kyivpost.com reports.
However, big issues remain, including finding a new prime minister and forming a new government as well as renewing negotiations with the European Union over an association and free trade agreement that Yanukovych shelved on Nov. 21, a decision that turned out to be his fatal political mistake.
Parliament needs to act fast.
"There is no time to wait as without the prime minister there will be no negotiations with the International Monetary Fund and Russia regarding financial aid. Without financial help Ukraine will default as it already came down to pre-default condition," said political analyst Taras Berezovets. "I hope that we will have a prime minister tomorrow (on Feb. 24). Tymoshenko renounced her candidacy already and I think (Arseniy) Yatseniuk has the highest chances."
Lawmaker Petro Poroshenko probably won't accept the job, Berezovets said, because he wants to run for president, unlike Yatseniuk.
Over the weekend, parliament steamrolled passage of most legislative initiatives with quick, unanimous votes, prompting Party of Regions lawmaker Sergey Tigipko to complain about a lack of democracy. It does, appear, however, that the defections of previously pro-Yanukovych Party of Regions members has created a new ruling majority for the three previously opposition parties.
Mykola Tomenko, a Batkivshchyna Party member of parliament, said that parliament doesn't need the Party of Regions or the Communist Party to create a majority.
Enough defections from the Party of Regions makes this possible.
"We are creating a group of around 40 deputies and it will join the coalition majority." says Anatoliy Kinakh, who recently quit the Party of Regions faction. "We don't have time. I hope that we'll finish forming coalition and new government by (Feb. 25). We can't allow political problems to add to the social and economic crisis as then the situation will go out of control.
The new government will be free to restart negotiations with the EU and the International Monetary Fund.
"As soon as there is new government, the negotiations on the association and free trade agreement with the EU will resume immediately," Berezovets said "Theoretically the EU can sign it with the new government even in March during the EU-Ukraine summit. Everything is ready, I don't see any obstacles."
February 24 2014, 10:40