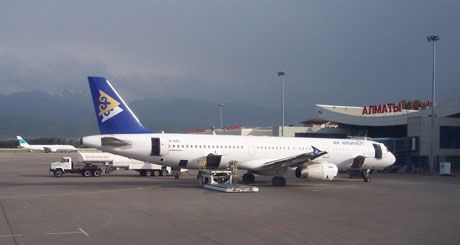 Kazakhstanflag carrier Air Astana wants to expand its network in Asia and could seek bilateral alliances with operators such as Royal Jordanian. Photo:AINAir Astana, the national carrier, is looking deep into Asia to expand its network. Its inclusion on the European Union blacklist, which frustrates its ambitions to expand West, lies at the heart of its strategy. Air Astana's discussions over a code-share partnership with Royal Jordanian, which follows an analogous strategy, is no coincidence. Royal Jordanian has developed Amman into a hub for the Levant region, straddling western Asia, the eastern Mediterranean and northeast Africa. As in Central Asia, small and relatively weak flag carriers traditionally have served the region, according to independent consultant the Center for Asia Pacific Aviation.
"Royal Jordanian has a good network in North Africa and Israel," Air Astana president Peter Foster told AIN. "These are good markets for us that we are keen to explore." The airline plans to pursue bilateral arrangements similar to the one it hopes to forge with Royal Jordanian. "There is no need to go through the expense of joining an alliance…We have a unique network," Foster added.
However, for Kazakhstan to become a hub it will need upgraded airport infrastructure. "While Almaty Airport recently installed Cat-3B, its capacity is limited and its charges are too high," said Foster. He believes that a new airport holding company will improve the situation.
Having ordered four Boeing 767-300ERs and three 787-8s, the first of which it expects to receive in 2017, Air Astana eagerly awaits the results of discussions to start services to the U.S., just initiated through the U.S. Embassy in the Kazakh capital, Astana. It would use the extended-range 767s just until the 787s enter service. While the carrier continues to expand in central Asia and the Caucasus, Hong Kong has become its sixth long-haul destination in Asia. "With visa-free travel for Hong Kong and Kazakhstan passport holders, I'm confident about strong traffic growth," said Foster. Plans call for a direct service to Ho Chi Minh City in Vietnam from Almaty to start by the end of this year.
Air Astana's fleet consists of two Boeing 767s, five Boeing 757s, 10 Airbus A320s, six Embraer E190s and three Fokker 50s. The airline plans to take delivery of four new Airbus A320s and two new A321s between November and May next year.
October 23 2012, 17:01