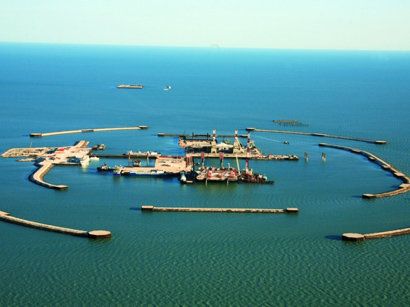 Kazakhstan is trying to compensate for the drop in oil revenue through development of new fields as oil production from the Kashagan field is once again postponed, senior researcher at the Institute of Economics of the Kazakh Ministry of Education and Science Oleg Yegorov said on Tuesday.
"The hope for Kashagan, has not materialised," he told trend over the phone on Tuesday. "Even last year, there was hope of extracting oil from Kashagan. Certain income from the sale of oil extracted there was laid in the budget, but it did not happen."
"The failure in Kashagan is one of the main reasons that Kazakhstan decided to cancel a moratorium on the development of new hydrocarbon fields that have been in existence since 2008 and put them up for the tender on the subsoil use right," he said.
He recalled there are several structures found during the Soviet era. Previously, these were put for the tender and they can give a lot of oil.
"We are to begin examining the sea thoroughly, while there are onshore structures that may contain considerable oil reserves," he added. "This is evidenced for example in the old Makat field. New oil reserves were discovered in the Sagiz area."
"However, foreign companies do not show interest in small fields," he said. "Kazakh private companies show interest in them. The foreign companies show interest in large fields with large oil volumes."
Moreover, Kazakhstan shows an interest in changing the unfavourable conditions in the production sharing agreements on Kashagan and Karachaganak.
"It would be beneficial for Kazakhstan to reconsider quotas for production and strengthen the companies' responsibility for the field development," Egorov added.
"Perhaps, Kazakhstan will be ready to renew the contracts on these fields on the terms of reconsidering the contracts," he added.
Earlier, Prime Minister Serik Akhmetov said that Kazakhstan is ready to extend the term of contracts for oil production on big projects under certain conditions.
January 31 2014, 13:45