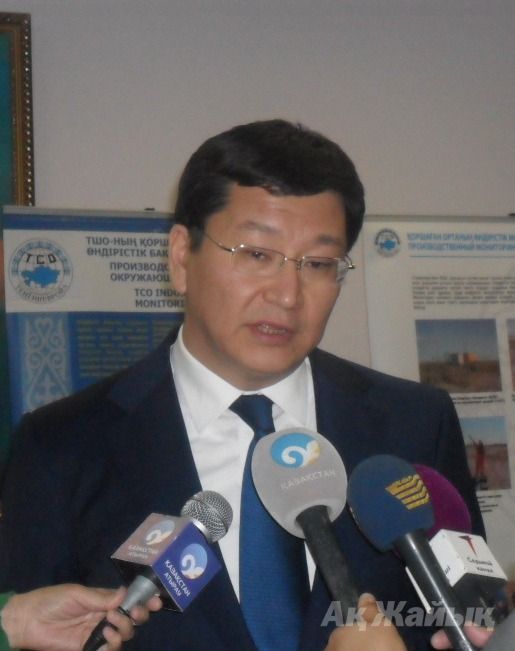 Daniyar YERENCHINOV (on the photo), Chairman of Environmental Regulation and Control Committee under the RoK Environmental Ministry attended the TCO's public hearings on 2013-2015 Environmental Action Plan held in Kulsary on October 18.
On the sidelines of the event we asked him several questions. For a start, he stated he would visit regions on a regular basis:
- We need to see the situation with our own eyes, but not on papers only.
- Your committee did not approve the Tengiz Future Growth Project. How much time will TCO need to finalize it?
- In it we found a number of inconsistencies to the existing requirements, therefore we rejected the draft. I believe the company is interested in finalizing the draft and they will submit it in appropriate form. They have enough time. And we have no intention to stop or delay the project. We don't just say "not approved", but explain in details why we rejected it and say "Would you be so kind to modify it?"
- What's your position about sulfur stored under open sky at Tengiz?
- I am not satisfied with its whole volume, but I am happy with its reduction trends. Based on the information provided, I think that by 2015 sulfur pads will be emptied and TCO will start soil reclamation.
- In comparison to other districts, Zhylyoi is notoriously leading in public sickness rate.
- Definitely there is influence on public health from activities of such a large organization as TCO. But, considerate scientific research is required before claiming the specific reasons for people's sicknesses: whether it is from discharges, gas flaring or open-sky sulfur storage, etc.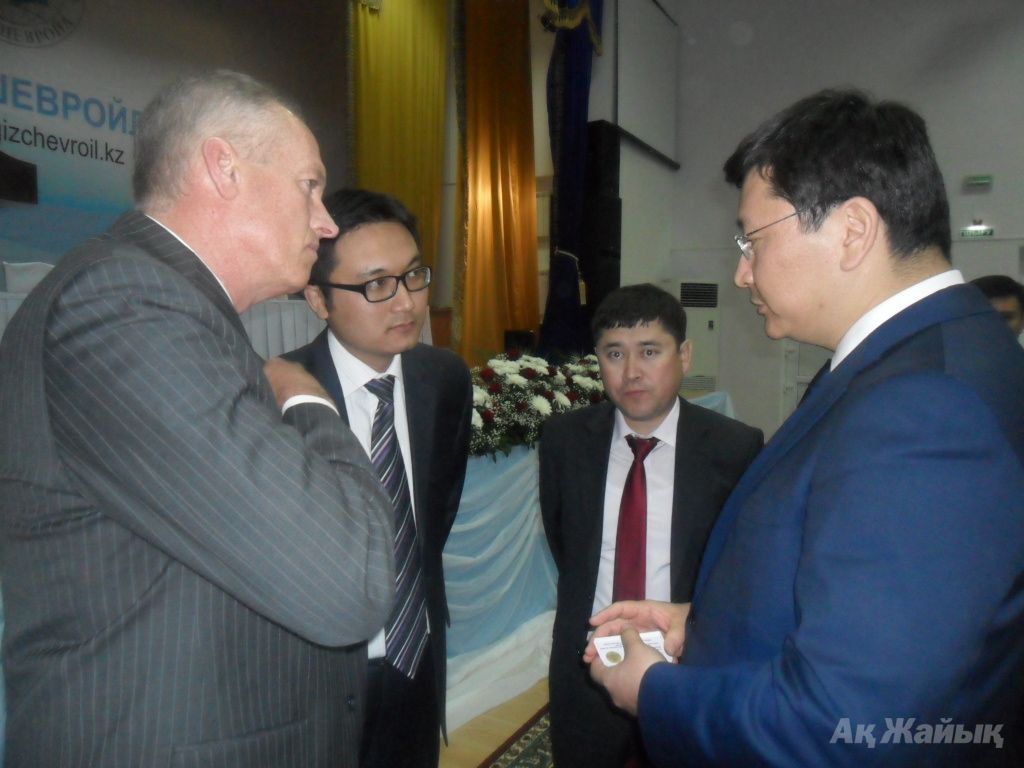 With Тim Miller, TCO General Director The trouble is that we don't have an independent monitoring. All researches are conducted by client companies as per the requirements of state agencies - TCO and NCOC. It is obvious that we cannot expect objective results.
- Good question. This summer we prepared a draft document for introduction of amendments to government resolutions pertaining to the norms of environmental monitoring in the Caspian Sea, where we clearly specified the techniques and recommendations. We should know the current background. And after that we can conduct industrial environmental monitoring in order to know the impact exposed during the production process. We are holding active discussions with subsoil users. Because in case of effecting those recommendations, subsoil users will be obligated to increase the number of monitoring stations. And we will be analyzing their data. We are introducing the four-seasonal period of researches of the influence of oil development to benthonic life, to sea fauna, to water layer and air. Our next step will be the development of similar techniques and recommendations for the onshore background and production monitoring. We hope to defend those recommendations and techniques in winter for their further introduction into the government resolutions.
- Can we rely on their accuracy?
- The comparative analysis will be conducted. The subsoil users defend their environmental control of the production programs with our office when they apply for permits for their activity. Besides, KazGidroMet which is the subsidiary of the Ministry of Environmental Protection (MEP) conducts monitoring at their stations located along the Caspian Sea coast.
The comparative analysis and identification of true picture will be made on the basis of data provided by subsoil users and background data of KazGidroMet.
Another thing is the shortage of methodical recommendations.
- If in the Caspian Sea we can compare background indicators before and after the start of oil production in Kashagan, how we can identify the damage made to the environment prior to the start of Tengiz development?
- These data are available in archive documents. At the moment we are just starting this work.
Laura SULEIMENOVA
Photo of the author
October 19 2012, 16:49