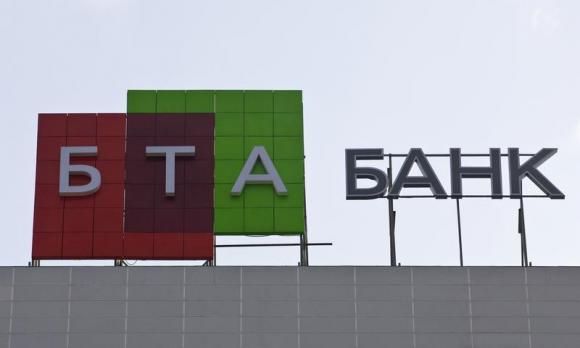 Kazkommertsbank KKGB.KZ KKGBq.L, Kazakhstan's largest bank by assets, is teaming up with businessman Kenes Rakishev to take control of BTA Bank BTAS.KZ as the state moves to reduce its stake in the bailed-out lender, reuters reports.
Kazakh sovereign wealth fund Samruk-Kazyna said on Monday it had struck a preliminary and non-binding deal to sell equal-sized stakes in the country's third-biggest lender to Kazkommertsbank and Rakishev for undisclosed sums.
It will keep a minority stake in BTA Bank, it added, without providing details.
While strengthening Kazkommertsbank's market position, the deal will also hand it the daunting task of reducing BTA's vast portfolio of non-performing loans (NPLs).
"The merger of the two banks will certainly lead to the creation of a mega-player holding a total of 26 percent of all banking assets in the country, but also with a huge package of problem loans," Aivar Baikenov, chief analyst at Kazakh investment company Asyl-Invest, told Reuters.
NPLs in BTA Bank total over 80 percent of its loan portfolio and represent over 27 percent in Kazkommertsbank, according to central bank data.
"Of course, the price of the deal remains an intrigue. We estimate that the real cost of BTA is not higher than 70 billion tenge ($456 million)," Baikenov said.
Samruk-Kazyna bailed out BTA in 2009 during the financial crisis and is estimated to have spent around $8 billion to stabilize its financial position. Samruk-Kazyna currently owns 97 percent of BTA.
The planned deal is in line with an order for Samruk-Kazyna to exit the capital of three local banks it bailed out during the crisis, which was issued by Kazakh President Nursultan Nazarbayev at the beginning of 2013.
"Once the consortium has completed the acquisition of BTA Bank's shares, the sides will initiate the merger of Kazkommertsbank and BTA Bank to ensure their stable and dynamic development," Samruk-Kazyna said.
Rakishev is the son-in-law of Imangali Tasmagambetov, an influential politician close to the president who is currently mayor of Astana. Rakishev is also chairman of Sat & Company, an industrial holding developing Kazakhstan's mineral resources.
The Kazakh state decided to turn to local investors after failing to attract foreign capital to the purchase of BTA Bank, central bank governor Kairat Kelimbetov told a news conference on Monday.
He said Kazakhstan's banking sector should aim to reduce the share of NPLs in its loan portfolio to 10 percent in 2014-15. Central bank data show that as of November 1, 2013, NPLs comprised 29.45 percent of the banking sector's loan book.
SECURING FUGITIVE OLIGARCH'S ASSETS
As of September 30, BTA Bank's assets were worth 1.61 trillion tenge ($10.5 billion), while its own capital stood at 296 billion tenge, Samruk-Kazyna said.
The bank's nine-month net profit totaled 24.1 billion tenge, the fund said.
BTA, which completed its debt restructuring last December, has started recovering assets owned by its former head Mukhtar Ablyazov, accused of embezzling up to $6 billion of BTA's money.
The 50-year-old fugitive oligarch, an outspoken critic of Nazarbayev, is in a French jail as he awaits a decision on whether he will be extradited.
Russia, Ukraine and Kazakhstan brought fraud cases against Ablyazov after BTA, which he once controlled, was seized by Kazakh authorities and declared insolvent. Ukraine and Russia have both demanded his extradition.
The case has drawn widespread public attention in Kazakhstan.
Ablyazov says allegations against him are designed to rob him and eliminate him as an opponent to Nazarbayev, who has ruled the oil-rich Central Asian nation for more than 20 years.
He was arrested in southern France on July 18, months after fleeing Britain, which granted him political asylum but later handed him a jail sentence for contempt of court.
($1 = 153.60 tenge)
December 24 2013, 10:16