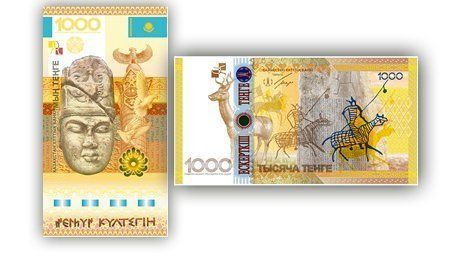 credit@nationalbank.kzA new 1000 tenge bill was issued and put into circulation by the National Bank of Kazakhstan on December 12, 2013, the press-office of the bank reports.
The commemorative bill is dedicated to Kul Tigin, a sculpture with Old Turkic inscriptions. Governor of the National Bank of Kazakhstan Kairat Kelimbetov signed off the new bill.

The new 1000 tenge bill is designed in yellow and brown undertones. The obverse of the bill displays a fragment of Kul Tigin sculpture of the political and military leader of the Second Turkic Kaganate. The design also includes flying doves and Kazakh Eli monument in Astana, representing a bird safeguarding the independence of Kazakhstan.

The reverse is designed with Turkic rock carvings portraying Turkic warriors on horses and a deer. The design includes a holographic strip with a fragment of the national flag, the logo of the National Bank and Eskertkish Tenge ("commemorative bill" in Kazakh) writing.

This run of the issue is 10 million bills.

Earlier the design of a commemorative 20 000 bill was unveiled to celebrate 20 years of tenge.

December 17 2013, 20:38