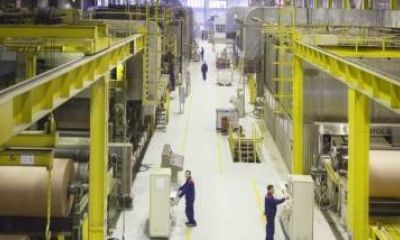 Kazakhstan Kagazy factory in AlmatyLondon Stock Exchange listed Kazakhstan Kagazy plc (the 'Company' or 'Kagazy'), Central Asia's largest producer of paper, corrugated board and packaging, and a leading operator of commercial warehousing and industrial infrastructure facilities in Central Asia, today announced that its operations in Almaty had been raided by the Kazakhstan financial police.
A spokesman for the company described events:
'Inspectors from the financial police arrived simultaneously at the headquarters of our paper and logistics businesses, sealed the premises, and announced that they will begin removing all documents and questioning employees regarding non-specific claims of 'criminal activities and tax evasion'. No details of the alleged offences have been provided.'
On November 20th the London High Court upheld a $100 million freezing injunction over the assets of the Company's former shareholders, whom the Company alleges fraudulently made huge disbursements of funds outside of Kagazy's business. Since the injunction was upheld in London, the Kagazy group has come under increased scrutiny from state authorities. However, today's raid on the business shows a dramatic escalation in the level of pressure being applied against the Company.
The Company's CEO, Tomas Mateos Werner, added: 'Since I became a shareholder in the Company, all of its activities have been legitimate and a culture of sound corporate governance has been established where, previously, there had been none. We uncovered convincing evidence of criminal actions by the Company's former shareholders, and used this to take action against these individuals in London. The London High Court agrees that we have shown a good arguable case of fraud by the former shareholders. It is disappointing that the Kazakh authorities have disregarded our evidence against the former shareholders, and are instead pressurising a legitimate business on unsubstantiated grounds. We will take all actions necessary to defend our business and our shareholders against these actions.'
Kazakhstan, recently ranked 49th in the world in the World Bank's 'Ease of Doing Business' survey, has announced its intention to join the WTO. However, these developments show that substantial risks still remain for foreign investors, as state authorities can clearly still be manipulated to suit private interests of local businessmen.
December 12 2013, 16:58