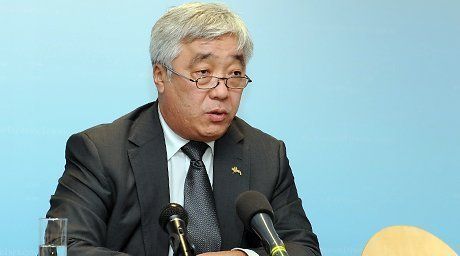 Mnister of Foreign Affairs of Kazakhstan Yerlan Idrissov. Сommenting the situation of Ukraine, Minister of Foreign Affairs of Kazakhstan Yerlan Idrissov said that Kazakhstan had always been supportive of integration processes, tengrinews reports citing the press-service of the Ministry.
Yerlan Idrissov made this statement during the 20th session of the Ministerial Council of the OSCE member states in Kiev.

"Kazakhstan believes that a choice of a political model of development, including a choice of integration forms, is a sovereign right of this country and it should be based on the country's own national interests in the first place," the Minister of Foreign Affairs of Kazakhstan said. He also pointed out that the Kazakhstan welcomes Ukraine's interest to integration within the Customs Union and Eurasian Economic Space. "However, we believe that this interest in no way prevents its from the natural search for integration opportunities elsewhere," Idrissov added.

Kiev's surprise decision days before the summit to scrap a landmark political and trade deal with the European Union that was years in the making, set off a war of words between East and West, and sparked the biggest protests seen in Ukraine in a decade.

A mass rally of some 10,000 protesters led by top opposition leaders like world boxing champion Vitali Klitschko started on November 21, 2013 in Kiev, Ukraine for the president to step down after he refused to sign a key political and free trade deal with the European Union at a summit in Vilnius.

Hundreds of riot police were deployed around the square in the run-up to the rally, heightening tensions of mass rallies against Yanukovych's decision to scrap the EU deal under Russian pressure.

"The Maidan has been brutally mopped up," opposition lawmaker Andriy Shevchenko said on Twitter, referring to
Kiev's central Independence Square, the site of the rally and the epicentre of the country's pro-Western 2004 Orange Revolution.

"Dozens wounded, dozens arrested. Ukraine has not seen anything like this before."

Opposition leaders introduced a draft resolution saying that the government had betrayed the Ukrainian people by scrapping plans to sign an Association Agreement with the European Union under pressure from Russia. Meanwhile, the information came out in the media that Ukrainian President Vladimir Yanukovich signed an agreement that also includes the joining to the Customs Union with Russia's President Vladimir Putin on December 7.
December 11 2013, 10:30