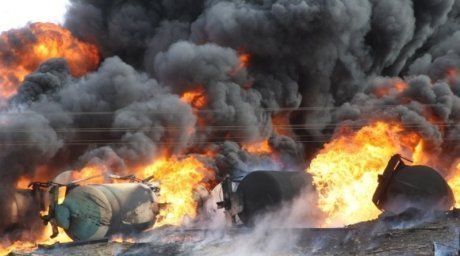 The accident site. ©Lada.kThe authorities have made a statement on the magnitude of the explosion near Aktau. The petroleum spill caused by the explosion has covered 3480 square meters, the Head of the Ecology Department of Mangistau Oblast Yermek Umarov told Tengrinews.
As a result of the railroad accident involving an oil train and a petrol full truck that happened in western Kazakhstan on November 16, 2013, the petroleum tanks flared and exploded at the railway passage in an industrial area.

"The area of the petroleum spill made 3480 square meters. An analysis showed that the penetration deep of the petroleum products ranges from 2 to 50 meters. (...) We are scraping the area; 500 tons of petroleum products have already been removed to a special site," Umarov said.

Full elimination of the pollution is expected to take two or three days, according to Umarov.

The authorities promised to announce the financial and physical damage caused by the accident during one week.

The accident took the life of the assistant train driver, who died on the spot, while the train driver was delivered to a hospital and is alive, but according to the doctors he is in grave condition.

November 22 2013, 16:56