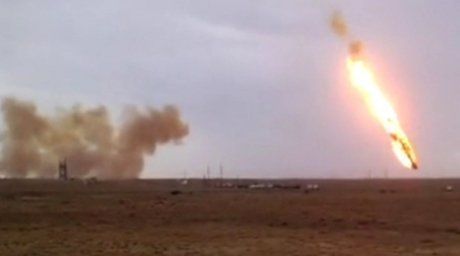 Kazakhstan has billed Russia for the Proton-M carrier rocket crash at Baikonur. The compensation amount has not been disclosed "not to flurry the public, Tengrinews reports.

"I won't announce the amount of damages billed for the last accident, not to sir up the society, but our committee has calculated the ecological damage, and presented it to our Russian partners. Our Russian partners are now discussing the bill, estimating whether our calculation of damages is acceptable for them. This is an matter of negotiations. We'll see how Russia reacts," Vice-Minister of Environment and Water Resources of Kazakhstan Bektas Mukhamedzhanov said, answering questions of NGO representatives at the Civil Forum in Astana.

Activists of the Anti-Heptyl Movement asked the Ministry for its position on launches of rockets that use the highly toxic fuel.

The Minister said that they were working to reduce the number of launches fueled by heptyl. "We are discussing Dnepr Ukrainian carrier rockets. And Russians also support the idea of joint development of the project to replace the Proton gradually," Bektas Mukhamedzhanov said.

He reminded that in the beginning of the year a letter signed by the Environment Minister was sent to the Government with a recommendation to limit this year's number of Proton rocket launches to 8 in fulfillment of the existing agreements on gradual reduction of Proton rocket launches from Baikonur.

"But the Kazakhstan Government didn't support the recommendation, as you know, 15 launches were allotted for this year. And I think the Russians have made 8 or 9 of them so far. It remains to be seen if they are able to fully use this quota before the end of the year, it is up to them to decide," the Vice-Minister said.

He expressed readiness to hold a round table discussion with the activists of Anti-Heptyl Movement, pointing out that the Ministry does not have the authority tore solve the issue of heptyl independently. "You know that such issues are not decided at the ministry level, but rather via intergovernmental agreements ratified by the Parliament. The issue can't be resolved by the Ministry alone, it is impossible, that is why we are ready to hold the round table discussion with you, to discuss things," he said.

Russia's Proton-M carrier rocket [equipped with a DM-3 booster] carrying three Glonass-M navigation satellites crashed right after the lift-off crashed right after the lift-off at Kazakhstan-based Baikonur cosmodrome on July 2, 2013.
November 19 2013, 09:57