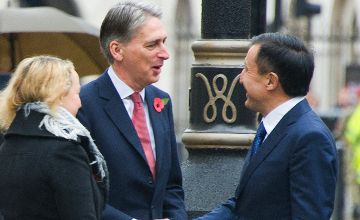 Kazakh Defense Minister Adilbek Dzhaksybekov held bilateral talks with his British counterpart Philip Hammond on Thursday as part of his official visit to the UK, the press service of Kazakhstan's Defense Ministry said in a report.
The two officials discussed the current state and prospects for further development of bilateral military and military-technical cooperation, according to the report.
In addition, Dzhaksybekov and Hammond discussed issues of holding joint exercises of peacekeepers from the two countries as well as further cooperation in military science.
The Kazakh defense minister also met with Chief of the Defense Staff of the British armed forces Gen. Sir Nick Houghton and Chief of General Staff of the British armed forces Gen. Sir Peter Wall, the report said.
Dzhaksybekov visited UK Trade & Investment's Defence & Security Organisation(UKTI DSO), where he met with representatives of the three companies representing the UK defense industry - defense technology company QinetiQ, company specializing in the aerospace industry Cobham and company producing military off-road vehicles Land Rover. The Kazakh defense minister also visited a company producing satellite communications InMarSat. "We are interested in Kazakh-British joint ventures, technology transfers and facilities manufacturing products domestically," the press office quoted him as saying.
Dzhaksybekov invited the British defense companies to take part in the international exhibition of armaments KADEX- 2014, which will be held in Astana in May next year.
November 1 2013, 13:03