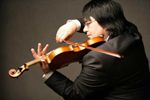 The violinists contest has been announced by the symphonic orchestra of Almaty directed by Marat Bisengaliyev. The contest is timed to the premiere of the film Paganini: The Devil's Violinist that will be held in Almaty six days earlier than in other post soviet countries, Tengrinews reports.

The winners of the contest will play with the Almaty orchestra directed by Marat Bisengaliyev before the premiere of the film in Arman cinema.

The honored musician of Kazakhstan well known abroad, violin virtuoso and director Marat Bisengaliyev will judge the contest.

To become a participant of the violinists contest one needs to record a video of his or her live performance of one of the 24 Niccolo Paganini's caprices, upload the video on YouTube and then file an application with the link to the video.

The contest is held in two age categories, for children under 15 years old and for those who over 16. The deadline of application submission is on November 10.

The winners will also receive valuable prizes, and the People's Choice Award holder will be given a one-year ticket to Arman cinema.

October 28 2013, 11:09