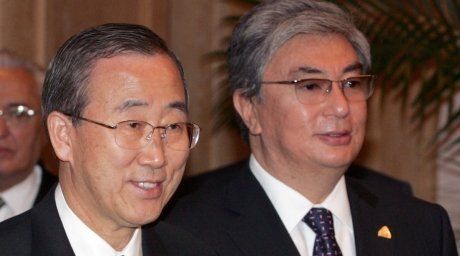 UN Secretary-General Ban Ki-moon and Kassym-Zhomart Tokayev. REUTERS/Shamil Zhumatov©
UN Secretary-General Ban Ki-moon thanked Kassym-Zhomart Tokayev, Kazakhstan's Senate Speaker, for his fruitful work as Director-General of the United Nations Office at Geneva (UNOG), Tengrinews reports, citing the Press Service of the Senate.
"We will feel your absence in Geneva. On behalf of all colleagues and the entire UN, I express gratitude for your dynamics and team spirit. In a time tough for the international community, you contributed to turning Geneva into a crucial center of global efforts, a concentration of many endeavors and UN events at high level", the Director-General's letter reads.

Ban Ki-moon wished Mr. Tokayev "all the best in his new important mission".

October 16 Tengrinews.kz reported that Kassym-Zhomart Tokayev had come back to be the Senate Speaker after a 3-year break.

"I suggested electing Mr. Tokayev (…) as I relieved Mr. Kairat Mami of his duties so that he could get back to his professional path [Supreme Court]", President Nazarbayev said when speaking at a Senate plenary session. Mr. Tokayev's candidacy was unanimously supported.

October 24 2013, 17:11