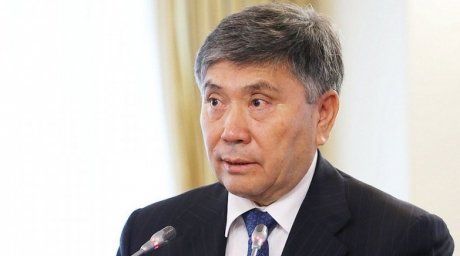 http://en.tengrinews.kz/markets/Global-oil-production-will-peak-in-2030s-Minister-23189/
Global oil production is expected to peak in the 2030s, Tengrinews reports citing Kazakhstan Oil and Gas Minister Uzakbai Karabalin.

"Energy consumption is expected to grow 30-40 percent by 2030. The planet's population will reach 8 billion people and China and India will be home to around one third of the population," the Minister said at the 8th KAZENERGY Eurasian Forum.

"The competition for access to energy resources will become tougher and regional and other proportions of energy consumption will change. The peak of the global oil production may fall on the 2030s," Karabalin continued.

According to his forecasts, oil will retain leadership among energy sources, while gas and coal will become equal and gas will gradually take the second place. The share of hydro energy will lower and the one of nuclear and renewable energy sources will go up.

"On a conservative estimate, the global volume of oil production will grow 1.2-fold by 2030 and gas production will grow 1.5-fold," Karabalin said. Countries like Kazakhstan will be maximizing their production volumes by then, he noted.

Oil prices are growing, the Minister noted. The prices have almost tripled over the last 10 years. "These processes also affect the cost of oil products and oil chemistry. In our opinion, Brent may reach $120 per barrel and higher by the end of this decade," he said.

Speaking of the global trends Karabalin also named completion of the era of easily extracted oil.

Karabalin also noted that Eurasia project that provides for exploration of the deep horizons of the pre-Caspian basin, both onshore and offshore, at the territory of Kazakhstan and Russia, is aimed at doubling of the resource potential of Kazakhstan and will allow the country to get into the top 10 countries by hydrocarbon reserves. Besides, according to the Minister, KazMunaiGas will strive to join the world's top 30 leading oil producers in 10 years.
October 9 2013, 10:13