By Laura Suleimenova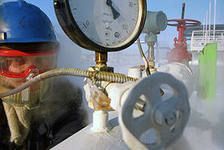 August 26, on the eve of the first oil production at Kashagan field an accident occurred at the Bolashak oil and gas treatment plant in Karabatan, 30 km east of Atyrau.

Bolashak is currently being filled with natural gas from the gas distribution system of Makat for leakage check.
Triggered sensors indicated gas yield under high pressure measuring 13 bars.
All the plant employees were evacuated to safety.

No injuried reported.
Deputy head of regional ecology agency Ruslan Tukenov confirmed the incident indeed took place.
The information on the case came from the prosecutorate of Makat District and National Security Department.
Though Agip KCO managers insisted nothing serious happened, the incident is being probed.
September 9 2013, 10:01