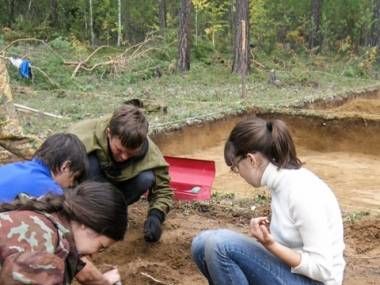 The international archeological expedition will visit the areas on the territory of Pavlodar region. The expedition is aimed at finding new evidences of ancient civilizations and collecting more information and details about the people of this region, kazakh.tv reports.
Well-known Kazakhstan and Russian archeologists, ethnographers and anthropologists and the school teachers and students of Pavlodar State Pedagogical Institute as the volunteers represent the team of the researchers. This expedition is unique because it is established for the first time. The scientists will not only study the current condition of the famous monuments, but also to find new evidence of ancient cities. The expedition will cover almost the entire territory of the region including Bayanauyl, Ekibastuz and Auliekol district. The results of the expedition will be presented in September when the School of Archaeology is scheduled to be held.
Timur SMAGULOV, HEAD, CENTER FOR ARCHEOLOGICAL AND ETHNOLOGICAL RESEARCH, PAVLODAR STATE PEDAGOGICAL INSTITUTE:
- It is really important for researchers to compare this information and to create a complete picture of how the ancient nomads settled. It is necessary to find out what type of farming was in the region. Every researcher wants to discover something new for science.
The scientists believe that medieval urban culture was developed in ancient times in the region between Ishim and Irtysh Rivers. Its fragments were found during excavations of Auliekol town (50 km from Ekibastuz) and ancient settlement near Kyzylkak Lake in Irtysh district. "Our goal is to fit these all fragments together and restore a picture of development of the region over the past 500-600 years," T. Smagulov said.
Irina TOLPEKO, ASSOCIATE PROFESSOR, DEPARTMENT OF ETHNOLOGY, ANTHROPOLOGY AND ARCHEOLOGY, OMSK STATE UNIVERSITY:
- There was a constant moving of the population back and forth and a lot of events took place. So we are very interested what was going on. We want to find these routes and collect all the necessary details for gathering information. Archaeological monuments and materials will be studied to collect this information.
August 23 2013, 11:24