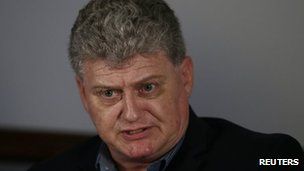 Lon Snowden rejected characterisations of his son as a "traitor"
Lon Snowden, father of US intelligence leaker Edward Snowden, has got a Russian visa and will visit his son "very soon", his lawyer says.

Mr Snowden told the US ABC network he wanted his son to return home provided the justice system is applied "correctly" in his case.

He added that his son had "spoken the truth" and made great sacrifices.

Edward Snowden has been granted asylum by Russia despite requests from the US that he be returned.

Lon Snowden appeared alongside his lawyer Bruce Fein on ABC television.

"We have visas, we have a date, which we won't disclose right now because of the frenzy," Mr Fein said, referring to the planned visit to Moscow.

Edward Snowden arrived in Moscow on 23 June from Hong Kong, after making revelations about a secret US data-gathering programme.

He then spent more than five weeks in Moscow's Sheremetyevo Airport's transit zone. He left the airport last week after having been granted the necessary documents.
'Poisoned the well'

Mr Fein said he had spoken to Edward Snowden's Russian lawyer, Anatoly Kucherena, who had told him he was safe.

"He obviously is exhausted. But he's now needing a period of time where he can recoup his energy level and reflect on what he wishes to do," Mr Fein added.
Lon Snowden said that "as a father", he wanted his son to return home, but had concerns over whether he would face a fair trial.

"At this point, when you consider many of the statements made by our leaders... they are absolutely irresponsible," Mr Snowden said.

"They have poisoned the well, so to speak, in terms of a potential jury pool," he added.

The row has had diplomatic consequences, with the US cancelling a bilateral summit scheduled for September.

Russia's decision to grant Mr Snowden asylum is seen as having worsened already tense relations between the two countries.

However, diplomats from the two countries did go ahead with talks in Washington on Friday to discuss other issues.

Mr Snowden is a former technical contractor for the US National Security Agency (NSA), who also once worked for the CIA.

In June he leaked to the Guardian and Washington Post newspapers documents and details relating to NSA programmes that gather data on telephone calls and emails.

Mr Snowden, 30, fled his home in Hawaii, where he worked at a small NSA installation, to Hong Kong, and subsequently to Russia. He faces espionage charges in the US.
August 12 2013, 15:50