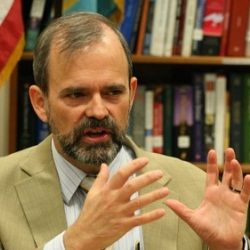 The United States Diplomatic Mission to Kazakhstan will go a month without an administrator, reports Radiotochka.
The US Ambassador Extraordinary and Plenipotentiary to Kazakhstan Kenneth Fairfax will leave his post in the middle of September. Given this, a new envoy will not be assigned over the next month, and the functions will be delegated to a Charge d'Affaires.
According to the diplomatic mission of the United States in Astana, Kenneth Fairfax is expecting transfer to a work in the International Energy Agency. His chair will stay vacant until someday in October.
As the US embassy explained, the official announcement of forthcoming Fairfax's resignation has not been drafted yet. For this reason, it was not possible to learn what exactly has caused his recalling.
Sources in diplomatic circles say sudden resignations almost always mean the center is not satisfied with a diplomat's performance.
So say journalists who have been monitoring the embassy's activities in the country.
According to them, Mr Fairfax has been regularly declining interview requests from media, while the post of an ambassador and the powers allow meeting the press without prior alignment with the upper management.
The fact, Radiotochka says, demonstrates the level of competence of a diplomatic official.
Before the assignment to Kazakhstan, Mr Fairfax has worked with the US embassies in Ukraine, Poland and Vietnam. He spent one year in the diplomatic mission to Iraq. However, even such experience does not guarantee significant advantages, writes Terra America: "at large Fairfax's level and experience are lower than it is expected from an American ambassador to the key nation in the region."

His new job, according to Radiotochka, is more suitable to his knowledge and experience - deputy acting director at International Energy Agency.

Reportedly, a month after he leaves, his post will be occupied by an official familiar with local realia.
John Malcolm Ordway, who has already been a charge d'affaires in Kazakhstan in 2004-2008 and in Astana in 2011, will be a temporary charge d'affaires. Mr Ordway will return to Kazakhstan in October and perform duties until the assignment of a new ambassador.
August 9 2013, 14:25