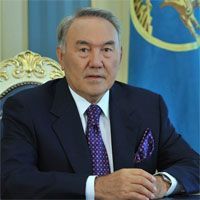 Kazakhstan's president Nursultan Nazarbayev has congratulated the country's people on Eid al-Fitr, an important religious holiday celebrated by Muslims worldwide that marks the end of Ramadan, the Islamic holy month of fasting, writes Ak Orda, a presidential website.
"Dear compatriots! I congratulate all of you on the coming of one of the most esteemed Muslim holidays - Oraza Ait!
Marking the end of the Holy month of Ramadan this holiday reflects the centuries-long traditions of Islam and represents its most important spiritual values - goodness, magnanimity and benevolence.
In the Holy month of Ramadan Muslims across the world free their hearts of bad senses and thoughts. The holiday of Oraza Ait strengthens the faith and gives power on the path of doing good deeds, demonstrating special care of neighbours and compassion to the poor, hospitality and generosity.
Our people have shown an example to the world that Islam is a religion of consent and tolerance, creation and harmony. In our country, Orza Ait unites the whole nation, not only Muslims.

What distinguishes the people of Kazakhstan is the love to own land, wisdom, diligence, respect towards seniors and support to neighbours. Our independent nation is truly proud of its rich spiritual heritage and unique historical, cultural and religious traditions.

Developing these, we should further help maintain the cultural and spiritual diversity in our society, strengthen mutual respect and trust between the citizens of our state.

On this blessed day I wish to all Kazakhstanis spiritual power, optimism, success, good health, happiness and well-being!

May the bright holiday of Oraza Ait helps us become closer to each other and bring peace and sufficiency to our homes!" the President said.


August 8 2013, 11:24