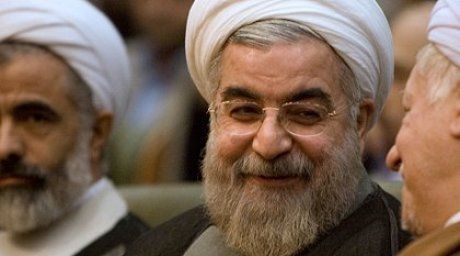 Kazakhstan's President Nursultan Nazarbayev met Iran's President Hassan Rouhani, Tengrinews.kz reports, citing President Nazarbayev's website.

The sides dwelt on prospects of the bilateral cooperation across the wide range of cooperation and broached acute issues on the international agenda. "Nursultan Nazarbayev and Hassan Rouhani pointed to the necessity of putting the transit capabilities to a greater use, notably the potential of the Zhana-Uzen – Kyzykgaya – Bereket – Etrek – Gorgan railway route. This route is capable of boosting the trade and economic interaction, contributing to the effectiveness of the region's transport structure", the statement reads.

The sides also dwelt on soonest possible settlement of the situation around the Iranian nuclear program, wherein Kazakhstan is ready to actively participate, including through providing a platform for the 5+1 negotiations.
Following the talk, President Nazarbayev wished the newly elected president to successfully implement all the undertakings.

August 5 2013, 10:47