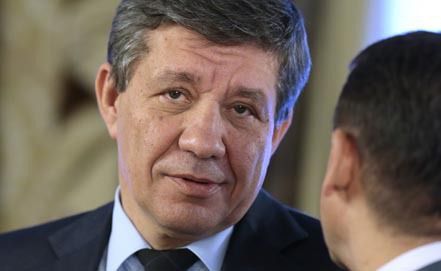 Head of Roskosmos Vladimir Popovkin
Russia's Prime Minister Dmitry Medvedev signed an order to reprimand Head of Roskosmos Vladimir Popovkin for unduly execution of his occupational duties, the government's press service said on Friday.

Vladimir Popovkin chairs the Federal Space Agency since April 29, 2011.

Space industry accidents

During Popovkin's management Russia's space industry suffered from several serious accidents.

August 2011, Proton-M launch vehicle equipped with a Breeze-M upper stage failed to put into orbit Express-AM4 communication satellite.

In November of the same year, the Russian-Ukrainian Zenit-2SB carrier rocket has put into reference orbit from Baikonur an automatic interplanetary station /AIS / Phobos-Grunt. However, it failed to take the flight path to Mars, and attempts to establish control over the station that stuck in low-Earth orbit have been unsuccessful. In January 2012, the wreckage of the Phobos-Grunt spacecraft fell into the Pacific Ocean. The losses amounted to 5 billion rubles.

August 6, 2012 ended in failure of launch from Baikonur of Proton-M rocket with two communications satellites: it failed to put in desired orbit Russian Express-MD2 and Indonesian Telkom-3. Roskosmos has officially acknowledged that the spacecraft was lost.

One of the latest incidents occurred July 2, 2013 with the Proton-M launch vehicle with three Glonass-M communication satellites onboard. It started promptly at the scheduled time, but almost immediately after separation from the launch pad sharply deviated from the flight path, began to disintegrate in the air, fell down and exploded. The main cause was declared the improper angular accelerometers' installation.
August 2 2013, 16:36