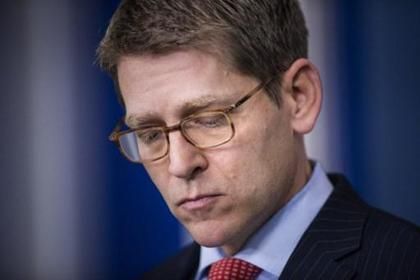 The White House says it is "evaluating the utility" of an anticipated meeting between President Barack Obama and Russian President Vladimir Putin during the G-20 meeting in Moscow in September after Russia granted temporary asylum to NSA leaker Edward Snowden.

"Mr. Snowden is not a whistleblower; he's accused of leaking classified information. He has been charged with three felony counts, and he should be returned to the United States as soon as possible, where he will be accorded full due process and protections," White House press secretary Jay Carney said during a briefing Thursday afternoon.

"This move by the Russian government undermines a longstanding record of law enforcement cooperation, cooperation that has recently been on the upswing since the Boston Marathon bombings," Carney added.
Snowden has been granted temporary asylum in Russia and has left the Moscow airport where he had been stranded for more than a month, his lawyer said Thursday.

An airport representative told Reuters that the former intelligence contractor had already crossed through the immigration line and left the airport.

The move by Russia unleashed a wave of criticism on both sides of the political spectrum.

"Russia has stabbed us in the back, and each day that Mr. Snowden is allowed to roam free is another twist of the knife," Sen. Charles Schumer, D-N.Y., said in a statement released Thursday.

"Others who have practiced civil disobedience in the past have stood up and faced the charges because they strongly believed in what they were doing. Mr. Snowden is a coward who has chosen to run. Given Russia's decision today, the President should recommend moving the G-20 summit."

Sen. John McCain, R-Ariz., released a statement calling on the U.S. "to fundamentally rethink our relationship with Putin's Russia."

"Russia's action today is a disgrace and a deliberate effort to embarrass the United States. It is a slap in the face of all Americans," McCain said.

House Minority Whip Steny Hoyer, D-Md., said that Russia's providing Snowden asylum is "not a positive event in the relations between our two countries." But he would not comment on whether Obama should go through with the coming talks between the two countries.
Sen. Robert Menendez, D-N.J., chairman of the Foreign Relations Committee, said in a statement Thursday that "this action is a setback to U.S.-Russia relations."

"Edward Snowden will potentially do great damage to U.S. national security interests and the information he is leaking could aid terrorists and others around the world who want to do real harm to our country. Russia must return Snowden to face trial at home."

But Snowden's father, Lon Snowden, said he believes his son should stay put for the moment in an interview with NBC News' Jim Maceda via satellite from Washington on Thursday.

"Were it me, given the action of the State Department, the Justice Department, I would stay in Russia — as they have the ability to withstand the obvious pressure that has been exerted by the State Department to have my son returned to the U.S."

His father was skeptical of how his son would be treated if he came home.

"Given the climate and the vitriol of so many members of Congress, I don't think there's the possibility that today he could receive a fair trial here." He added, "I am thankful for both the courage and strength of the Russian people. ... They have kept my son safe."
Snowden's lawyer, Anatoly Kucherena, said he wouldn't disclose the 30-year-old fugitive's whereabouts for security reasons.

"He is the most wanted man on planet Earth. What do you think he is going to do? He has to think about his personal security. I cannot tell you where he is going," Kucherena told Reuters.

"I put him in a taxi 15 to 20 minutes ago and gave him his certificate on getting refugee status in the Russian Federation," he said. "He can live wherever he wants in Russia. It's his personal choice."
August 2 2013, 10:51