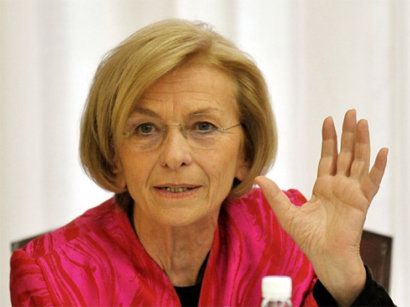 Emma Bonino, Italy's foreign minister
Behaviour of Kazakhstan's ambassador to Rome Andrian Yelemessov during the case connected with deportation of Alma Shalabayeva was inexcusable, DPA quoted Italian Foreign Minister Emma Bonino as saying.

Alma Shalabayeva, the wife of fugitive Kazakh oligarch Mukhtar Ablyazov, and their six-year-old daughter were detained in a overnight raid by Italian police late in May. They were rushed onto a private jet with Kazakh diplomats and flown back to Kazakhstan.

Ablyazov is wanted by Kazakhstan's authorities on fraud and embezzlement charges while he was heading Kazakh BTA Bank. After the criminal investigation was launched in early 2009 Ablyazov fled to the UK claiming asylum against political persecution. In May 2011 the British court refused from recognizing claims that the case was politically motivated and upheld the bank's claims. In February, 2012 the High Court sentenced Mukhtar Ablyazov to 22 months of imprisonment for contempt of court. However, the sentence has not been carried out so far, because his whereabouts has not been established. Moreover according to some Kazakh media and officials, Ablyazov had a direct relationship to the mass riots in the city of Zhanaozen on December 16, 2011 when at least 14 people were killed.

The minister said Italy may take action against Kazakhstan's ambassador if the Central Asian republic fails to ensure the wellbeing of the wife and daughter of a dissident that Rome has wrongly deported.

"I think it is clear that, after this episode, the quality of our relations will depend on Astana's willingness to offer its essential cooperation in safeguarding the rights of Alma Shalabayeva and of her 6-year-old child," Bonino said in parliament.

Italy would seek help from the European Union to press Kazakhstan on the issue, the minister said.

Depending on the response, the government would "consider the most suitable actions to be taken against" Kazakhstan's envoy to Rome, Andrian Yelemessov, Bonino said. She labelled the diplomat's behaviour during the affair as "inexcusable."

Earlier Kazakh Foreign Minister said Khazakhstan is ready to return Shalabayeva to Italy, but only if it gets a "guarantee" that she will be sent back in case Kazakh authorities need to interview her again in connection with their criminal investigation.

A great scandal broke out in Italy following this deportation which led to the resignation of Interior Minister Angelino Alfano's chief of staff at the interior ministry, Giuseppe Procaccini. Moreover Premier Enrico Letta's government would have been in peril if Alfano had failed to pass the confidence test. However the Italian Senate rejected a no-confidence motion in Deputy Premier and Interior Minister. The review of the case also found irregularities in the protocol followed by Kazakhstan's ambassador to Rome, Andrian Yelemessov, who pressured the interior ministry to hand over Ablyazov's kin.

UN human rights experts have condemned this deportation and called on Italian authorities to facilitate the return of Alma Shalabayeva, and her six-year-old daughter to Italy.


Upon Shalabayeva's return home, Kazakh authorities placed Shalabayeva under investigation for paying bribes to secure fake documents for her family and banned her from leaving the city of Almaty, where she is living with her parents.

An Italian diplomat has visited her and found her in good health, Bonino said. However, she added that the woman has decided to limit her movements because "she fears becoming a victim of incidents or provocations."
July 25 2013, 15:45