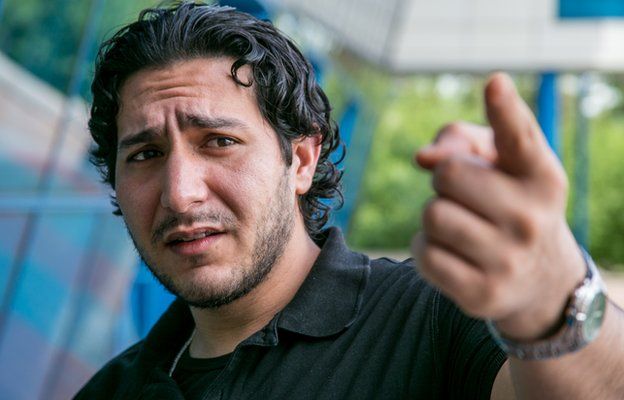 This weekend, the US whistleblower Edward Snowden, will have spent four weeks in Moscow's Sheremetyevo airport. Two thousand miles away, in neighbouring Kazakhstan, a young man has already spent four months in the transit area of an airport - and admits it is driving him round the bend.

As airports go, Kazakhstan's Almaty International has not much going for it. It's small, and there's not much to keep travellers entertained.

For Mohammed Al Bahish being stuck there for 120 days has been an excruciating ordeal.

He does not even have access to the duty free or the overpriced cafes.

The 26-year-old Palestinian refugee, born in Iraq, is confined to what officials call "the sterile zone" for travellers and airport staff - he's the only one who belongs in neither category.

He cannot enter Kazakhstan because he has no visa, but nor does he have a visa to enter any other country. Israel won't allow him to travel to the Palestinian territories, and the UN accepts that with no living relatives in Iraq, it would be unsafe for him to return to the country of his birth.

Every day he wakes up to the same monotonous female voice announcing flight details, gate closures and a lengthy monologue - regularly repeated - on Kazakh customs regulations.

"I feel like I am going slightly crazy," he says.

Already pale and puffy-faced, he is confined to a windowless 2m by 3m room inside the arrivals hall.
It reeks of cigarette smoke. There is a bunk bed, a shabby sofa, and a Koran on a table by the wall.
Through the door, which is slightly ajar, new arrivals stream past on their way from the landing gates to passport control.

Intensifying Mohammed's sensation of being in limbo, he is fed on meals prepared for passengers on Kazakhstan's national air carrier, Air Astana.

"They bring airplane food three times a day - tiny boxes of salad and cakes," he says. "For the entire month of June I ate beef and mushroom stroganoff. I don't think I will ever eat beef again."

Airport security controls his every movement outside the room. Occasional coffee runs to a drinks dispenser are permitted, as are visits to the showers used by staff in the luggage department.

Wherever he goes, police or security guards accompany him.

His only opportunities for fresh air are walks to a porch area overlooking the runway.

His only contact with the outside world comes when the airport's irregular free wi-fi signal flickers into life. Then he uses Skype.

"I talk to my cousin Yaser, he lives in Norway. I don't have any other close family, my parents died in Iraq when I was 16, and I don't have any brothers or sisters," he says.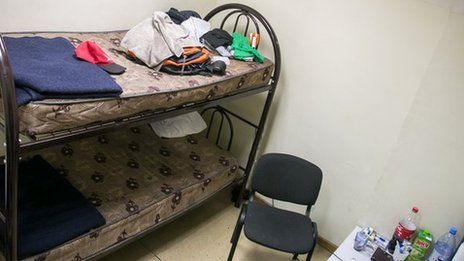 It was the desire to make his own family that brought him to Kazakhstan to live with his girlfriend, Olesya Grishenko, now pregnant with their first child.
Continue reading the main story
"
Start Quote

I see all these people leaving the building, and I am just stuck here, I can't go anywhere"
Mohammed Al Bahish

The Kazakh national met Mohammed on holiday in Dubai when he was working there as an interior designer.

In Kazakhstan, while registering their intention to marry, Mohammed's refugee travel documents went missing, and his Kazakh and UAE visas expired.

He later flew to Turkey in the hope of renewing his Kazakh visa, but was turned back at the border.

"I was deported from Istanbul for lack of a valid visa, and they sent me back to Almaty. But here I also did not have a valid visa so they sent me straight back to Istanbul. Four times I flew back and forth between the two cities," Mohammed says.

Kazakh immigration is keeping Mohammed in the airport's transit area, which legally is not considered Kazakh territory.
Last month, the Kazakh authorities turned down his application for asylum.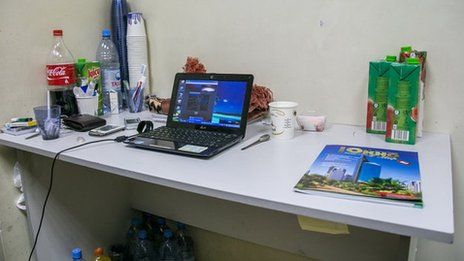 Mohammed says he has been preoccupied with a single thought since becoming trapped - how to escape.

"I miss the sunshine, I miss being outside," he says.

"I see all these people leaving the building, and I am just stuck here, I can't go anywhere," he says.

We walk through the sliding door on to the steps where passengers board and disembark from shuttle buses. But Mohammed can go no further.

The sound of airplane engines fills the air. Behind Almaty, mountains glisten.

"I get too angry when I come out here," he says. "Because I truly feel that I am in jail."
July 19 2013, 11:28