US whistleblower Edward Snowden intends to apply for asylum in Russia. Experts believe Snowden's hand has been forced on the matter and say that it could strain relations with the US for Russia to grant Snowden asylum.

The crowd of journalists, from Russia and abroad, had to wait two weeks for this day. Emotions have been running high at Moscow's Sheremetyevo International Airport on Friday (12.07.2013) as hundreds of reporters stormed the arrivals hall of Terminal F, hunting for anyone that may have had contact with the fugitive former US intelligence contractor Edward Snowden. Some cameramen even ran down escalators going in the opposite direction, while passengers watched the bizarre spectacle unfold.

In the middle of it all was the man who revealed America's spectacular online espionage activities to the world. According to Russian authorities, Snowden has been sitting in the airport's transit area since the end of June. Since the 30-year-old had not shown himself to the public, there had been doubts as to whether he was actually there. But now there is certainty: Snowden is still in Moscow.

He has said he intends to apply for asylum in Russia and plans to stay there until he's able to fly to Latin America as originally planned, according to human rights activists and lawyers who met with Snowden. In the invitation to the meeting sent to Human Rights Watch, Snowden sharply criticized the US government, speaking of an "illegal campaign" being waged against him.

Witness: Snowden 'looked well'

The meeting between Snowden and his supporters was held in a secret room, with the press forced to stay outside.
Vladimir Putin has warned of conditions on Snowden remaining in Russia
"Edward Snowden was visibly upset, but overall looked well," Vyacheslav Nikonov, a member of parliament and of Russian President Vladimir Putin's United Russia party, told DW. Nikonov, who was at the meeting, reminded Snowden of Putin's conditions: should Snowden want to stay in Russia, he must stop acting against the interests of the US.

"Obviously, Mr. Snowden is in a difficult situation," said Gerhard Simon, an expert on Eastern Europe at the University of Cologne. According to Russian sources, Snowden was not able to travel to Latin America because his US passport has been canceled. Now he wants to "try to get a foothold in Russia," said Simon. Hans-Henning Schröder, of the German Institute for International and Security Affairs (SWP), agreed that Snowden will likely remain in Russia for the time being.

"The fact that Snowden [will] now apply for asylum in Russia reflects poorly on European democracy," said Anke Domscheit-Berg, of Germany's Pirate Party in Brandenburg. Speaking with DW, she criticized the fact that EU countries, including Germany, had rejected Snowden's applications for asylum. She suggested that Snowden "should be brought to Germany as a key witness."

Strained relations

Schröder warned of the consequences of the decision for relations between Russia and the US. "This is obviously a liability," he said. The US had asked Russia to extradite Snowden, a request that Moscow refused.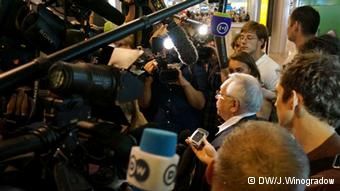 After Snowden's meeting with activists, the press swarmed those who participated
According to Simon, Putin now finds himself in an "ambivalent" situation, explaining, "On the one hand, it's satisfying that the current number one enemy of the United States is seeking asylum in Russia," he said. On the other hand, nobody knows how "the US will respond in the long term," he added.

Only a few days ago, there were rumors in the Russian media that US President Barack Obama might cancel his planned Russian visit in September because of Snowden.

Mixed reactions in Russia

Even in Russia, there were mixed reactions to Snowden's plans. Mikhail Fedotov, the head of Putin's council for human rights, was skeptical, commenting to Russian media that Snowden had not behaved consistently. He brought up the fact that Snowden had previously asked for asylum upon first arriving in Moscow, before later withdrawing the request. However, Sergei Naryshkin, the speaker of Russia's lower house of parliament, has requested that Snowden be granted asylum anyway.

Experts doubt that Snowden plans to settle permanently in Russia, believing instead that he will likely move on to Venezuela, Bolivia or Nicaragua, the three countries that have thus far offered him asylum. But in the coming days and weeks, he will probably stay in Moscow. When asked whether he liked it in Russia, Snowden reportedly said simply: "It's safe."
July 15 2013, 16:49