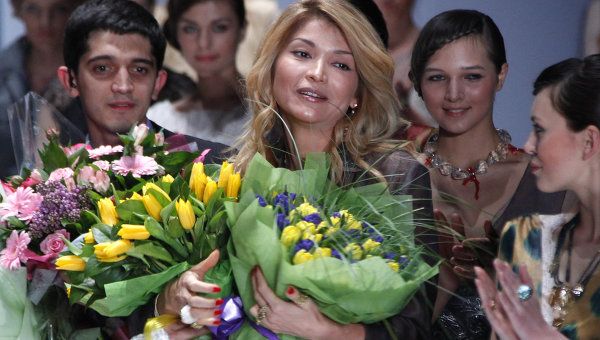 Gulnara Karimova (archive)
The glamorous and powerful daughter of Uzbekistan's authoritarian leader said Saturday she quit her job as the ex-Soviet nation's representative to the United Nations in Switzerland – and accused Swiss authorities and a Russian telecom of "spreading" false rumors about losing her diplomatic immunity.

BBC reported earlier Saturday citing Swiss diplomats as saying that the 41-year-old daughter of Islam Karimov has lost her diplomatic immunity after leaving her post as Uzbekistan's permanent representative to the UN in Geneva.

Karimova tweeted that the report on lost immunity was "not true" and accused Swiss diplomats – and MTS, one of Russia's leading telecoms– of being "clearly involved in this PR action from (the) beginning."

Her resignation follows a string of mishaps that happened to her business and artistic pursuits recently.

Last August, Swiss authorities arrested two Uzbek nationals allegedly linked to Karimova as part of a money-laundering investigation that involve her charities. The probe is linked to an ongoing investigation in Sweden that suspects Karimova of receiving a $320 bribe from the Swedish-Finnish TeliaSonera telecom for a 3G license and frequency in Uzbekistan, a nation of 30 million with a thriving communications market.

Russian telecom MTS said last September that an Uzbek court ruled for the seizure of its Uzbek subsidiary's assets worth about $700. The subsidiary, Uzdunrobita, had almost 10 million clients in Uzbekistan.

The aspiring fashion designer also had her show canceled at New York's Fashion Week in 2011. The cancellation followed protests of international human rights groups that accused her father's government of forcing millions of Uzbek schoolchildren to pick cotton each fall for weeks instead of attending classes.

Since the late 1990s, Uzbek authorities have seized holdings of several international companies souring the investor climate in the resource-rich Central Asian nation.

Karimova said in another tweet Saturday that she resigned from her UN job to "be able to concentrate more on Uzbekistan" where she runs several charities and owns a business empire that includes a telecom, cement factories, gas stations, night clubs and several media outlets, according to independent media reports.

A WikiLeaks cable characterized her as a "robber baron" who allegedly sided with two godfathers of Uzbek organized crime to sell government jobs for millions of dollars. Independent Uzbek publications have for years ran stories about businessmen whose companies and holdings were allegedly expropriated by Karimova's henchmen.

A Harvard graduate and a mother of two, Karimova has also designed jewelry, recorded two albums and published a book of poetry that was panned by critics.

Her father, the 75-year-old former Communist boss, has ruled Uzbekistan since before the 1991 Soviet collapse weeding out opposition, silencing critics and strictly controlling economy. He fell out with the West after his troops opened fire on thousands of protesters in the eastern city of Andijan, killing hundreds, according to survivors and human rights groups.
July 15 2013, 09:35