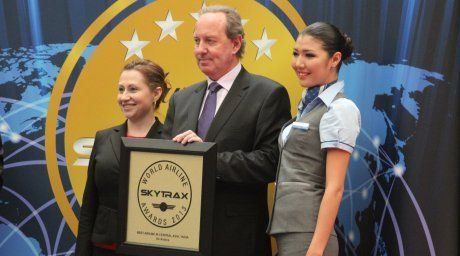 President of Air Astana Peter Foster @Tengrinews.kz
Air Astana has once again been named the best airline in Central Asia and India, Tengrinews.kz reports from Le Bourget Air Show in Paris. The company's President Peter Foster received Skytrax award.
"On behalf of over 4,000 dedicated Air Astana staff, I'm greatly honoured to receive the latest World Airline awards," Peter Foster told the journalists after the awarding ceremony. This "re-confirms our status as the leading carrier from Central Asia. You have seen that there are many well-deserved and competitive airlines here. We are happy to be chosen." Last year Air Astana received the same award and was tagged the best airline in Central Asia and India.

Air Astana also got an award in the Best Service category at Le Bourget. Passengers from around the world evaluated different airlines on Airline Quality website.

"This includes online-registration procedure, level service, personnel's friendliness, seats comfort, boarding and registration procedures and food," Air Astana's deputy Director on Onboard Services Yelena Obukhova said. "Passengers from around the world were asked on the phone and polled online about their travel experience in the sky and on the ground. The survey was held for 10 months. Last year we also received 4 stars. Representatives of Skytrax came to Kazakhstan to perform an audit."

Ana All Nippon Airways and Malaysia Airlines received 5 stars at the World Airline Awards. Onboard food of Asiana Airlines was tagged the best in economy class. Garuda Indonesia airline was awarded for the best economy-class seats. Turkish Airlines was tagged the best European airline. Ana All Nippon Airways turned out to have the cleanest cabins. "Selecting the clean cabin, we choose the cleanest company," the ceremony's host said. The awards were given to airlines in the total of 65 categories.

Le Bourget Air Show opened in Paris on June 17. The exhibition includes aircrafts of over 40 companies from around the world. Kazakhstan is taking part in the event for the first time. Air Astana has presented its Embraer-190. The airplane bears the name of Kazakhstan actress Amina Umurzakova and performs domestic flights in Kazakhstan. According to the airline, the aircraft was delivered from the manufacturer in Brazil in March 2013.

"I'm also proud to have our newest Embraer E190 on display at show, since its popularity in service over the past two years has greatly contributed to our success," said Peter Foster, President of Air Astana.


June 19 2013, 16:39